PH-OPTICA-MICRO
Fibre Optic pH Meter
---
Overview
Specifications
Accessories
Citations
Related Products
Overview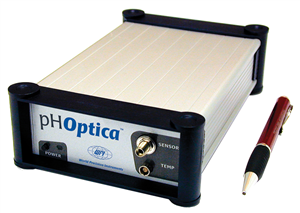 There are 1 images available to view - click to enlarge and scroll through the product gallery.
A nover fiber optic pH system
pHOptica™ is a pH measuring system which uses fiber optic sensors and patented DLR technology. This method allows referenced measurements with single excitation to be implemented.
Features of pHOptica Meter
Single-channel, compact, easy to transport fiber-optic meter for pH measurements with miniature sensors
Two 12-bit, programmable analog outputs, with electrical isolation
One external trigger input, with electrical isolation
Computer with RS232 interface required for operation
User-friendly software saves and visualizes measured values
Several pHOptica meters can be connected to one computer
Temperature variation is recorded using a temperature sensor
Features of pH Optical Sensors
No reference electrode is needed
Immune to electrical interferences and magnetic fields
Low drift
High spatial resolution due to small tip size
Measurement in very small sample volumes
Additional optical isolation of the sensor tip is available for measurements in colored or photosynthetically active samples
Applications
The pHOptica micro system is a single channel pH system for use with fiber optic micro sensors. The applications include:
Penetration or implantation into living tissue (heart, muscle or animal blood vessels)
Soil implantation for pH measurement
Implantation into customer-made housing
To protect the small glass fiber tip from breakage, the manufacturer designes suitable housings and tubings around it. The design you choose will be based on your application.
The needle-type housing sensor (502123) protects the fiber in an 18 ga. stainless steel needle. The fiber has to be extended during measurement. It penetrates through the septum.
The implantable sensor (502124 ) has no housing, allowing for implantation into an animal's blood circuits or soil implantation. Build your own housings to suit your needs with this flexible sensor design.
Micro Sensor Features
Tip size 140μm
Drift of 0.1pH units for 2000 measurements (16 hours measurement in the 30 sec data update mode)
Specifications
| | |
| --- | --- |
| Data Interface | RS232 |
| Sample Rate | 1 sample per second |
| Measuring pH Range | 5-9 |
| Resolution (at 20°C) | ±0.03 (microsensors); ±0.01 (minisensors) |
| Response Time | < 1 min |
| Dimensions | 185 x 110 x 45mm |
| Weight | 630g |
| Power Supply | 100-220V AC |
Accessories
Citations
Kirwan, R., Felice, L., & Clark, A. (2012). Hypoxia Regulated gene transcription in human optic nerve lamina cribrosa cells in culture. … Ophthalmology & Visual …. Retrieved from https://www.iovs.org/content/53/4/2243.short
Magnotta, V., & Heo, H. (2012). Detecting activity-evoked pH changes in human brain. Proceedings of the …. Retrieved from https://www.pnas.org/content/109/21/8270.short
Zhang, C., Fan, Y., Wang, X., Xiong, J., & Tang, Y. (2012). Acidic preconditioning protects against ischemia-induced brain injury. Neuroscience …. Retrieved from https://www.sciencedirect.com/science/article/pii/S0304394012006519
RelatedItems
PH-OPTICA-MINI
Fibre Optic pH Meter