UV-200-01
Tension and compression testing system
---
Overview
Specifications
Accessories
Citations
Related Products
Overview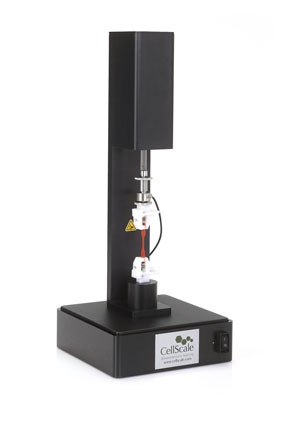 There are 1 images available to view - click to enlarge and scroll through the product gallery.
Features:
Quality, cost-effective testing
Quick to learn and easy to use
Small, light, and portable
Multiple specimen options and testing modes
Available imaging system and image analysis software toolkit
Test Modes: Tension / Compression / Bending
Force Capacity: 200N
Load Cell Capacities (N): 10, 20, 50, 100, 200
Cycle Frequency: Max 2 Hz
Data Rate: 100Hz
Velocity: Max 10mm/s
Stroke: 60mm
Mechanical testing when and where you need it
The UniVert is ideal for a wide range of mechanical testing applications. Its small footprint and affordable price allows users to have testing capabilities when and where they are needed. The easy-to-use software and interchangeable components make the system ideal to use without the need for extensive training or supervision.
This robust system is capable of tension and compression testing at forces up to 200N. A wide range of grips and platens are available to accommodate different specimens and testing modes.
Equipped with CellScale's user-friendly software, the UniVert provides all the control features needed for displacement and force controlled testing.
Specifications
Accessories
Citations
RelatedItems