504630
MemoryFlex™ Vannas Scissors, 14.75cm with 1.2cm straight blades
---
Overview
Specifications
Accessories
Citations
Related Products
Overview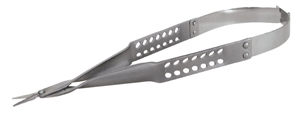 There are 2 images available to view - click to enlarge and scroll through the product gallery.
Memory steel construction
Splay resistant
Light as titanium
Virtually unbreakable
Perfect for left hand use
Our premium MemoryFlex™ scissors constructed of memory steel will change the expectations you have for your fine surgical scissors. Most standard stainless steel surgical scissors are unable to cut through 8 layers of latex. Because of their unique memory steel, our MemoryFlex™ scissors can easily cut through at least 64 layers of latex, cutting all the way to the tip. Stainless steel scissors fail not only because they dull quickly, but also because the scissors screw loosens and the individual blades splay.

The memory steel removes the tension from the rivet (or screw) joint that holds the scissor blades together. For standard stainless steel scissors, the pivot point is the weak spot. As soon as it loosens, the blades begin to splay, and the scissors lose their cutting ability. Memory steel scissor blades are set with a 300% increased shearing angle so that the blades actually overlap. The memory steel flexes as the cut is made, guaranteeing consistent cutting at the tip with greater cutting efficiency and less crushing when used for cutting tissue. The flexible memory steel always returns to its original shape. This ensures that you get a clean, sharp cut every time.

Additionally, the excessive shearing bias counteracts the negative 'shear reducing aspects' of use in the left hand. This makes our instruments ideal for left hand use. If you are left handed, you will notice the difference the first time you use our memory steel scissors.


Specifications
Accessories
Citations
RelatedItems