CLEANRAY-2000
CleanRay UV Room Sterilizer For Disinfection of Office, Home or Lab
---
Overview
Specifications
Accessories
Citations
Related Products
Overview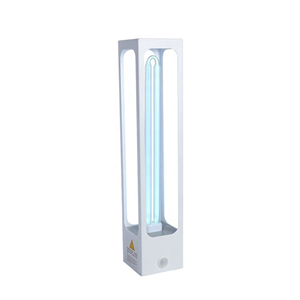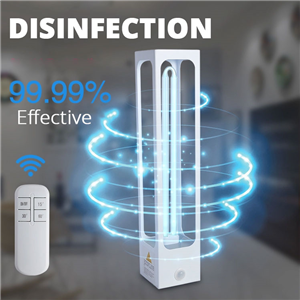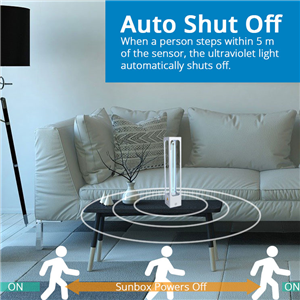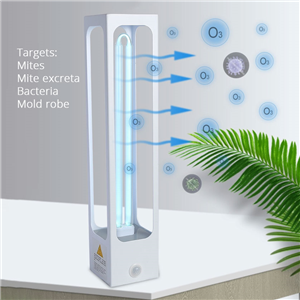 There are 5 images available to view - click to enlarge and scroll through the product gallery.
CleanRay UV Room Sterilizer For Disinfection of Office, Home or Lab
Combines two technologies in one unit - ozone and ultraviolet
Quickly disinfect your whole room in 30 minutes (~430 ft2, 40 m²)
Safety comes first with an automatic flashing light that indicates when the CleanRay is active
Integral 360° degree induction motion sensor to shut off the light when someone enters the room
Automatically restarts 10 seconds after everyone leaves the room
Quick sterilization using 254 nm wavelength to breakdown RNA and DNA of microorganisms
Stable base design
Aesthetic design to place in any living space
Finally, WPI offers an affordable way to disinfect your office, home or lab with the WPI CleanRay Room Model. The CleanRay Room Model, on of WPI's UV sterilzers, stands upright with an aesthetic design to fit into any living space. A full 360° path to ensure sterilization of the entire room. To protect the occupants, the unit automatically shuts off when it detects movement in the room. It automatically restarts when the people are out of range. This prevents people and pets from coming into contact with the harmful UV rays.
Benefits
KILLS GERMS AND BACTERIA - Hidden microorganisms lie waiting for you everywhere. With the portable WPI CleanRay Ultraviolete Room Sterilzer, UV light is all you need. Just set it up, turn it on and leave the room. Let the CleanRay remove your worries.
REDUCE YOUR CHANCE OF SICKNESS NOW! Our hands are busy all day long. We touch hundreds of objects everyday, including our noses, eyes and mouths. The CleanRay disinfecting unit keeps you out of the doctor's office.
USE IT EVERYWHERE - You will find yourself using this portable UV sterilizer in every living space. Use it for kitchen counters, bathrooms, sitting areas, pet areas, offices, hotels and more.
100% SATISFACTION GUARANTEED - Buy with confidence. If you are not satisfied, just send it back within 30 days for a full refund.
SANITIZES WITHOUT CHEMICALS OR IRRITANTS - You can sanitize any surface (counters, bathroom fixtures, furniture, etc.) quickly and easily without chemical residue or harsh liquids or odors. Whether at home, work, dorm or bathroom, theCleanRay Room Model is ideal for disinfecting almost everything you touch. It is not designed for use on people, pets or food.
Dual Technology Uses Ozone And Ultraviolet
Ozone is a strong oxidant, which generates a large amount of free radicals and has a sterilizing and disinfecting effect. The CleanRay Room Model UV disinfection lamp is more effective than liquid disinfectant, without any irritating odor after disinfection. It is compact and easy to store, and it is safe and convenient to use. The lamp bulb is made of a quartz material and emits 254 nm wavelength of light. The CleanRay has a long service life, high transmission rate and better sterilization effect.
Specifications
Type
Descriptions
Power
38 W
Lamp Dimensions
100×100×482 mm (3.9×3.9×19")
Input Voltage
110 V/220 V
Material
Aluminum shell with Quartz lamp
Disinfection Method
UV and Ozone
Applicable Area
40 m2 (~430 ft2)
Light Source
Quartz ultraviolet
Certificates
CE, RoHS
Control Mode
Remote control, time mode, motion sensor
Effective Disinfection
Bedroom: 15-30 min
Kitchen/Bath: 15-30 min
Living Room: 60 min
Accessories
Citations
RelatedItems

CLEANRAY-1000
Cleanray For Quick, Easy Sterilization Using UV Light - LIMITED SPECIAL OFFER
CLEANRAY-2000
CleanRay UV Room Sterilizer For Disinfection of Office, Home or Lab