NL2010MC2T - Discontinued
Nanoliter Injector with SMARTouch™ Controller. For oocyte injection and applications in the nanoliter range.
---
Overview
Specifications
Accessories
Citations
Related Products
Overview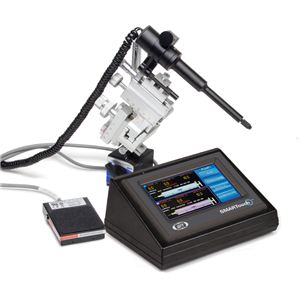 There are 1 images available to view - click to enlarge and scroll through the product gallery.
Discontinued, see Nanoliter2020
Features
Microprocessor-controlled injector
Direct piston displacement in capillary glass
Micro2T SMARTouch™ controller
Optional foot switch
Benefits
No syringes required
Graphical representation of volume status
Automatically calculated injections based on pipette volume
Intuitive touchscreen interface
Precise control over volumes and injection rates
Applications
Oocyte injection
Neo-cortex injections
WPI's microprocessor-controlled Nanoliter 2010 uses direct piston displacement. By either pushing
the injection button on the control box or pressing on the optional foot switch, a discrete volume will be injected. Maximum fluid ejection is 4.5 μL. Each unit comes with a vial of capillary glass for pulling 10 μm micropipettes. Glass is 1.14mm O.D. (nominal) and 0.5 mm I.D.
The system includes:
(1) Vial 3.5" capillaries (300)
Replacement "O" rings
(1) Allen wrench
(1) MicroFil MF34G backfilling needle
(2) Sample μTip™ pre-pulled micropipettes.
SMARTouch™ Controller Sold Separately
Already own a unit with the standard controller or a Micro4 digital controller? Now you can upgrade
to touchscreen control with the new SMARTouch™ controller.
SMARTouch™ Controller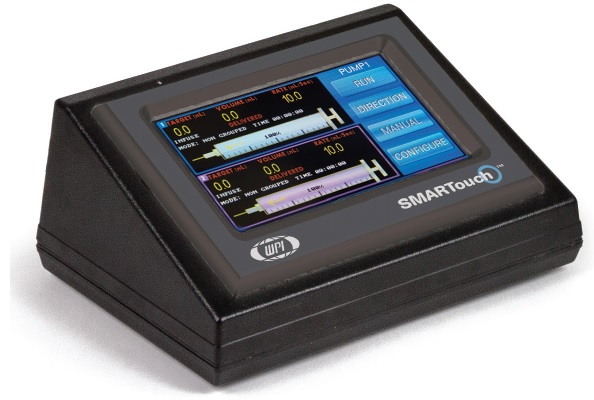 The MICRO2T, a high resolution SMARTouch™ touch screen controller, provides an "intelligent" and easy-to-use interface to operate one or two Nanoliter Injectors independently or synchronously.
The control screen graphically displays the delivered or remaining volume in your Nanoliter 2010 Injector, along with pertinent injection information (the grouped status, target volume for dispensing, a volume counter, the dispensing rate, the infuse/withdraw mode, the delivered volume and the time the pump has been running). From this screen, you can run the pump(s) manually or automatically, change the direction of the pump or access the configuration screen.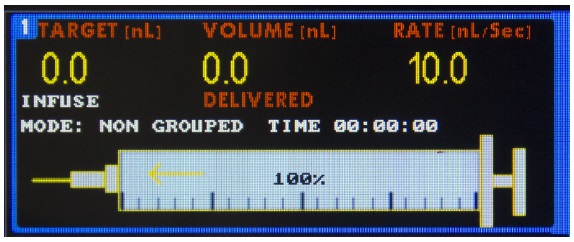 The pump display area shows vital information for each pump attached to the controller.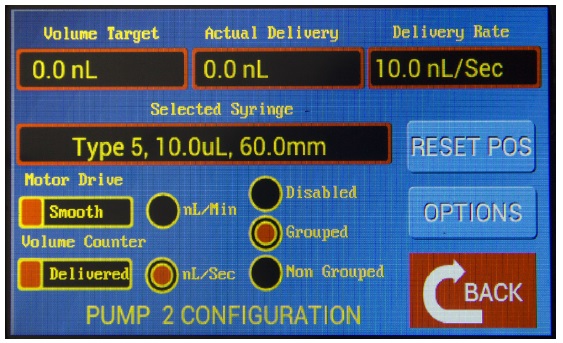 The Configuration screen allows you to set the limits of travel and define parameters for a selected pump.
With the touch of a button on the Command screen you can access all the configuration parameters. Set the target volume and delivery rate, set the mode (Motor Drive), select nL/min. or nL/sec. for the delivery rate, and group or ungroup the pumps.
An optional footswitch can be plugged into a connector on the rear of the controller for "hands free" start/stop operation. A USB port on the rear of the controller can be used to connect it to a computer for remote control.
Specifications
REMOTE CONTROL
Yes
GLASS OD
1.14 mm
GLASS ID
0.5 mm
LINEAR TRAVEL PER FULL STEP
12.7 μm/step
INJECTION SPEED

Slowest 1.617 nL/min
Fastest* 1287 nL/sec*

SMALLEST VOLUME
0.1 nL
LARGEST SINGLE STEP VOLUME
4527 nL
SHIPPING WEIGHT
3 lb. (1.1 kg)
*Ejection rate is limited by pipette tip opening size. Controller injection rate should not be set to exceed pipette capacity.
Accessories
Citations
RelatedItems