SYS-A320R
Isostim Stimulator/Isolator rechargeable
---
Overview
Specifications
Accessories
Citations
Related Products
Overview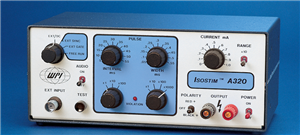 There are 1 images available to view - click to enlarge and scroll through the product gallery.
Easy-to-use
Dual tone audible alarm
Designed for Neuroscience & Muscle applications
Timing
Pulse interval and width are set with single-turn continuously variable controls from 5 ms to 5.5 s in three ranges. Pulse width is continuously variable from 50 µs to 550 ms in four ranges.
Modes of Operation
In FREE RUN, Isostim™ generates continuous square waves. In EXT GATE or EXT SYNC modes, externally applied pulses can generate trains or single events. Single pulses of finite duration can be produced using a push-button on the instrument's front panel. EXT/DC mode converts Isostim to a passive stimulus isolator.
Dual Tone Audible Alarm
A tone sounds when an open circuit is detected or when system compliance is reached. A second tone, which sounds when a signal is applied to the input, can only be heard if the batteries have sufficient charge to operate the isolator. A violation light advises when pulse width exceeds the interval.
Current Delivery
Stimulus currents up to 10mA can be set on the front panel with a control knob and a two-position range switch. Output current is load-independent.
Power
The rechargeable A320R is supplied with a nickel metal hydride battery stack which provides 10-12 hours of operation before recharge is required. The A362 Battery Charger is required with the A320R. See A320RC, which includes both the A362R and the A362 battery charger.
Specifications
| | |
| --- | --- |
| TIMING PARAMETERS | |
| Interval | 5ms to 5.5s continuously variable in three ranges (0.18 to 200Hz) |
| Pulse | width 50μs to 550ms continuously variable in four ranges |
| | |
| INPUT | |
| External sync | Accepts 1μs minimum pulses |
| External gate | Accepts 1μs pulse to continuous |
| Ext. command voltage threshold | 5V at 3mA min., 8.5V max. |
| OUTPUT | |
| Waveform | DC, pulse from internal timing or externally generated pulse |
| Current ranges | 0-1mA, 0-10mA |
| Load voltage excursion (compliance) | 10 V nom., 150V max. |
| Output polarity | Reversible, manual switch |
| Current rise time and delay | 8μs, typical (1KΩ load) |
| Current fall time and delay | 10μs, typical (1KΩ load) |
| Leakage resistance, output to ground | 1012Ω |
| Optocoupler | 2500V rated min. breakdown voltage |
| | |
| POWER | |
| Dry Cell (Version D) | 16 alkaline 9V batteries included |
| Rechargeable (Version R) | 16 rechargeable NiMH 9V batteries incl |
| DIMENSIONS | 8.5 x 3.5 x 4.9 in. (22 x 9 x 12 cm) |
| SHIPPING WEIGHT | 4 lb. (1.8 kg) |
Accessories
Citations
RelatedItems