HUM BUG
Noise Eliminator; Eliminate 50/60 Hz noise and harmonics without filtering
---
Overview
Specifications
Accessories
Citations
Related Products
Overview
A New Solution
WPI is proud to distribute the Hum Bug -- a new approach to Noise Control. This is a powerful new technology for cancelling electrical interference in real-time, avoiding all of the traditional problems associated with notch filters. The Hum Bug constructs a replica of noise present on the input signal and continuously subtracts this replica from the signal as it passes through the instrument. It performs this function in the presence of biological activity even when noise characteristics evolve over time.
Advantages
The Hum Bug is not a filter. It does not create phase delays, amplitude errors, DC shifts or waveform distortion. Simply connect it between your preamplifier and any analysis equipment and it will automatically eliminate 50/60 Hz noise and harmonics with frequencies up to several kHz. Noise is eliminated without altering the signal of interest even when frequencies within the signal overlap with noise components. No settings or adjustments are required.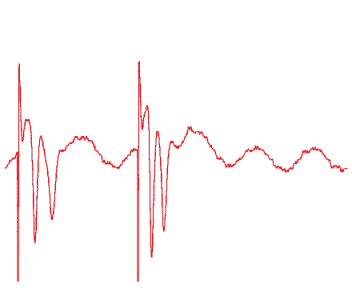 Figure 1. A hippocampal recording contaminated with line noise. The physiological signal remains intact as the HumBug removes the imbedded line noise.
Eliminates Electrical Interference
Simple 50/60 Hz Sine Waves
Mixtures of 50/60 Hz Harmonics
Noise Spikes from Dimmers
Complex Noise from Fluorescent Lamps
No Waveform Distortion
No Frequency Loss
No DC Voltage Shift
No Signal Attenuation
No Phase Error
Note: This product is only available to users outside of the UK. If you are in the UK, please click here.
Specifications
Shielded steel instrument box with cast aluminum base
W-6.5" D-7.5" H-1.3" (32,2 x 18.1 x 3.1 cm)
Power: 115-120 VAC at 60 Hz., 230-240 VAC at 50/60 Hz.
Input Voltages
Input protection: 50 volts peak to peak
Maximum input signal: 5 volts average peak to peak
Maximum noise amplitude 1 volt peak to peak
Frequency Response
Noise cancellation: 50/60 Hz and harmonics up to 4 kHz
Controls
BYPASS: halts noise cancellation
HOLD: suspends adaptation to evolving noise
CLEAR: clears the noise replica
Display
LED indicates changing noise levels
GREEN: decreasing amplitude of the noise replica
RED: increasing amplitude of the noise replica
Accessories
Citations
Bedore, C., Loew, E., & Frank, T. (2013). A physiological analysis of color vision in batoid elasmobranchs. Journal of Comparative …. Retrieved from https://link.springer.com/article/10.1007/s00359-013-0855-1
Cuypers, K., Leenus, D., & Berg, F. van den. (2013). Long-term TENS treatment decreases cortical motor representation in multiple sclerosis. Neuroscience. Retrieved from https://www.sciencedirect.com/science/article/pii/S0306452213005526
Cuypers, K., Leenus, D., & Wijmeersch, B. Van. (2013). Anodal tDCS increases corticospinal output and projection strength in multiple sclerosis. Neuroscience …. Retrieved from https://www.sciencedirect.com/science/article/pii/S0304394013008203
Farooq, U., & Rajkumar, R. (2013). Corticotropin-releasing factor infusion into nucleus incertus suppresses medial prefrontal cortical activity and hippocampo-medial prefrontal cortical long-term. European Journal of …. Retrieved from https://onlinelibrary.wiley.com/doi/10.1111/ejn.12242/full
Haan, R. de, Lee, Y., & Nordström, K. (2013). Novel Flicker-Sensitive Visual Circuit Neurons Inhibited by Stationary Patterns. The Journal of Neuroscience. Retrieved from https://vntin.com/www.jneurosci.org/content/33/21/8980.full
Levin, S., Meesen, R., & Press, N. (n.d.). Anodal tDCS increases corticospinal output and projection strength in multiple sclerosis. Prof. dr. Ivo Lambrichts, …. Retrieved from https://uhdspace.uhasselt.be/dspace/bitstream/1942/15856/1/PhD_KoenFINAL_docserver.pdf#page=89
Liang, C., Howells, J., & Kennerson, M. (2013). Axonal excitability in X-linked dominant Charcot Marie Tooth disease. Clinical …. Retrieved from https://www.sciencedirect.com/science/article/pii/S1388245713011735
Lindgren, C., & Newman, Z. (2013). Cyclooxygenase-2, prostaglandin E2 glycerol ester and nitric oxide are involved in muscarine-induced presynaptic enhancement at the vertebrate neuromuscular. The Journal of …. Retrieved from https://onlinelibrary.wiley.com/doi/10.1113/jphysiol.2013.256727/full
Lui, L., Bourne, J., & Rosa, M. (2013). Relationship between Size Summation Properties, Contrast Sensitivity and Response Latency in the Dorsomedial and Middle Temporal Areas of the Primate. PloS one. Retrieved from https://dx.plos.org/10.1371/journal.pone.0068276
Quesseveur, G., & Repérant, C. (2013). 5-HT2A receptor inactivation potentiates the acute antidepressant-like activity of escitalopram: involvement of the noradrenergic system. Experimental Brain …. Retrieved from https://link.springer.com/article/10.1007/s00221-013-3434-3
Schäfer, D., Puschhof, A., & Schuhmann, W. (2013). Scanning electrochemical microscopy at variable temperatures. Physical Chemistry Chemical …. Retrieved from https://pubs.rsc.org/en/content/articlehtml/2013/cp/c3cp43520b
Thijs, S., & Meesen, R. (2013). Long-term TENS treatment decreases cortical motor representation in multiple sclerosis. … , co-promoter Prof. dr. Herbert Thijs, …. Retrieved from https://uhdspace.uhasselt.be/dspace/bitstream/1942/15856/1/PhD_KoenFINAL_docserver.pdf#page=73
Vasant, D., & Payton, A. (2013). The val66met polymorphism of brain-derived neurotrophic factor is associated with human esophageal hypersensitivity. …. Retrieved from https://onlinelibrary.wiley.com/doi/10.1111/nmo.12021/full
Walder, K., & Ryan, S. (2013). Immunohistological and electrophysiological evidence that N-acetylaspartylglutamate is a co-transmitter at the vertebrate neuromuscular junction. European Journal of …. Retrieved from https://onlinelibrary.wiley.com/doi/10.1111/ejn.12027/full
Webster, R., Cossins, J., & Lashley, D. (2013). A mouse model of the slow channel myasthenic syndrome: Neuromuscular physiology and effects of ephedrine treatment. Experimental …. Retrieved from https://www.sciencedirect.com/science/article/pii/S0014488613001854
Yu, H., & Rosa, M. (2013). Uniformity and diversity of response properties of neurons in the primary visual cortex: Selectivity for orientation, direction of motion, and stimulus size from center to far. Visual neuroscience. Retrieved from https://journals.cambridge.org/production/action/cjoGetFulltext?fulltextid=9057712
Zhu, X., He, L., & McCluskey, L. (2013). Ingestion of bacterial lipopolysaccharide inhibits peripheral taste responses to sucrose in mice. Neuroscience. Retrieved from https://www.sciencedirect.com/science/article/pii/S0306452213009251
RelatedItems