CARDIOPHYS
CardioPhys™ ECG
---
Overview
Specifications
Accessories
Citations
Related Products
Overview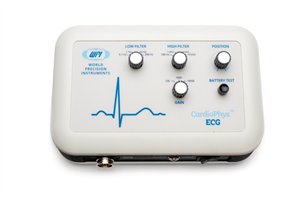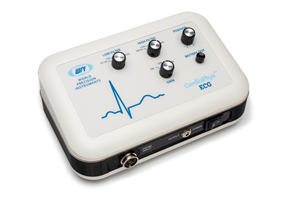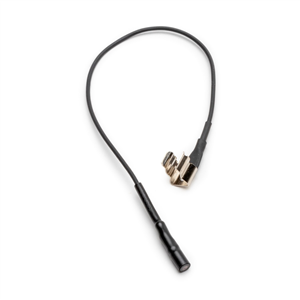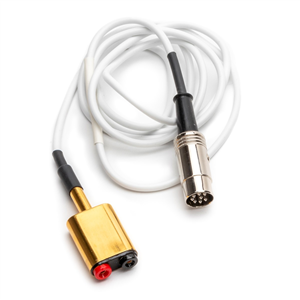 There are 5 images available to view - click to enlarge and scroll through the product gallery.
The CardioPhys™ ECG system is a highly versatile tool for measuring ECG of a wide spectra of animals – as small as a zebrafish embryo to animals as large as an alligator.
The CardioPhys™ ECG is a bioamplifier that is designed to amplify the sum of electrical potentials from cardiac muscle, and other extracellular signals. The signal produced from cardiac recordings tracks the depolarization and repolarization of the cardiomyocytes as they contract in succession to pump blood through the heart. The amplifier is powered by two 9 V batteries to minimize electrical noise, which could interfere with or mask the voltage signal from the heart.
How It Works
The CardioPhys™ ECG unit receives its input signal from a head stage connected to two electrodes. The electrodes are attached to the animal across the area where an electrical field is generated by the heart. An additional third electrode serves as a ground, which can be either attached to the animal or immersed within a conductive medium surrounding the animal. When the electrodes are attached to the animal, the ground wire serves to complete two circuits, one from each electrode to the common ground electrode. The CardioPhys™ ECG then sends the signal output to a data acquisition system as a voltage signal.
The CardioPhys™ ECG unit has high pass and low pass filters.
The high pass allows only frequencies above a specified value to "pass," and eliminates any frequencies below that set value.
The low pass filter allows frequencies below the specified value to pass and eliminates any frequencies above that set value.
A position dial can adjust the zero, in case of signal drift. The amplification of the signal can be increased from 100X, to 1,000X to 10,000X the incoming signal.
The CardioPhys™ ECG unit includes electronics within the system (both the amplifier and the head stage) that are maximized for low noise recording of very small signals using either glass or metal microelectrodes. The CardioPhys™ ECG unit is versatile enough to measure extracellular voltage signals from animals as small as a hatched zebrafish embryo to animals as large as an alligator (or elephant) to record electrical potentials at the cell or tissue level.
The CardioPhys™ ECG is designed to amplify extracellular biopotentials. These battery powered bioamplifiers incorporate a compact chassis profile that allows the units to be located close to the preparation, which helps minimize long lead lengths that often contribute to noise.
What's Included
CardioPhys™ ECG unit
ECG-PROBE CardioPhys™ probe with low-noise, active headstage
CardioPhys™ ECG reference electrode assembly
CardioPhys™ ECG startup kit with various connectors for electrode connection and a microelectrode holder
Specifications
| | |
| --- | --- |
| INPUT IMPEDANCE | 1012 Ω, common mode and differential |
| INPUT LEAKAGE CURRENT | 50 pA (typical) |
| COMMON MODE REJECTION RATIO | 100 dB @ 50/60 Hz |
| INPUT CAPACITANCE | 20 pF |
| AC MODE NOISE | 0.4 µV RMS (2uV p-p) 0.1-100 Hz |
| AC MODE NOISE | 2.6 µV RMS (10uV p-p) 1Hz-10 kH |
| BANDWIDTH FILTER SETTINGS, AC Mode | Low frequency, 0.1, 1, 10, 300 Hz |
| BANDWIDTH FILTER SETTINGS: AC Mode | High frequency, 0.1, 1, 3, 10 kHz |
| OUTPUT CONNECTORS | Audio Jack connector |
| OUTPUT VOLTAGE SWING | ±8V |
| OUTPUT IMPEDANCE | 470 Ω |
| BATTERY TEST | Audible tone |
| CALIBRATOR SIGNAL | 10 Hz square wave |
| POSITION | Approximately 250 mV |
| CURRENT SOURCE:DAM80: DC | 0 to ±50 µA, variable |
| EXTERNAL COMM | Input Voltage ±10 V commands |
| AC or DC current | ±50 µA max. amplitude @ 200 Ω |
| BATTERIES | 2 x 9 V alkaline (included) |
| SIZE | 19.7cm x 12.7cm x 7.6cm |
Accessories

300726
ECG Reference Cell

ECG-PROBE
ECG Probe
Citations
RelatedItems
2851
BNC-TO-BNC CABLE, 6ft, BNC (male) to BNC (male)
13324
13324 Adapter, Dual Banana (female) /BNC