CW-MRI-1
MRI-Compatible Ventilator for small animals
---
Overview
Specifications
Accessories
Citations
Related Products
Overview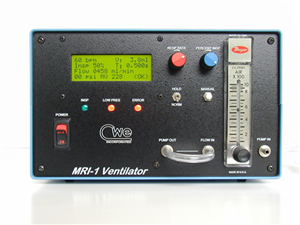 There are 1 images available to view - click to enlarge and scroll through the product gallery.
Non-magnetic pneumatic valves
Wide tidal volume and rate range
Safe with oxygen and anesthesia
Well-suited to sensitive electrophysiology recording situations
The CWE-MRI-1 Ventilator is a small animal ventilator designed for use in MRI and other high magnetic field environments, though its use is not limited to those environments. Operated alone or controlled/monitored by a computer, the CWE-MRI-1 system consists of a microprocessor-based control unit and a set of remote, pneumatically operated, nonmetallic valves. The CWE-MRI-1 operates on the flow-time principle, dispensing a known airflow into the lungs for a set inspiratory time to generate the desired tidal volumes. The three controls – respiratory rate, inspiratory time and flow rate – allow for accuracy and extraordinary flexibility over a wide range of volumes, breaths-per-minute and inspiration/expiration time (I/E) ratios. An internal air pump generates the respiratory airflow, but CWE-MRI-1can also connect to an external pressurized air or gas source (oxygen or anesthetic gasses). The remote high-speed, miniature pneumatic valves control the airflow switching. To minimize dead-space and tubing compliance, locate the valves close to the animal (including inside the magnet bore, if necessary).
This unit may be expanded to ventilate larger animals or multiple small animals simultaneously by adding external valve assemblies. External valves operate synchronously, but tidal volumes are independently set by varying the flow rate to each valve assembly. A source of compressed air or helium is required for operating the pneumatic valves. Helium is often used as the actuating gas, because its lower density and viscosity permit faster valve switching.
Specifications
| | |
| --- | --- |
| Respiratory Rate Range | 5-150 breaths/min |
| Inspiratory Flow Range | 50-1000 mL/min |
| Inspiration/Expiration (I/E ratio) Range 2 | 20-80% |
| Tidal Volume Range* | 0.1-30 mL |
| Manual Control Functions | HOLD (suspends inspiration), MAN (manual inflation) |
| LCD Panel | 4 lines x 20 characters, backlit |
| Indicator Lights | INSPIRATION, LOW PRES WARNING, and ERROR |
| Internal Airpump Capacity | 4 lpm |
| Pneumatic Valve Switching Speed (Air Actuation) | 75 mS |
| Pneumatic Valve Switching Speed (Helium Actuation) | < 55 mS |
| Pneumatic Valve Actuation Pressure | 3-5 bar |
| Pneumatic Valve Flow Orifices | 0.080 in. (2.0mm) |
| Pneumatic Valve Materials | PTFE body, non-metallic fasteners, one nonferrous coil spring |
| Dimensions, Main Unit | 9x5.5x9 in. (23x14x23 cm) |
| Dimensions, Pneumatic Valve (each, of two) | 1.0 in. diam x 1.8 in. long, (47x25 mm) |
| Port Connections, Respiratory and Pressure Functions | 0.125 in. (3 mm) ID Tygon tubing |
| Sync Out Connector | BNC |
| Data Port Connector | DB-25S |
| Power Requirements | 120/240V (switchable), 100VA |
Accessories
Citations
RelatedItems