MCFX-400
MechanoCulture FX , 16-well cell culture bioreactor with unaxial stretching and real-time imaging
---
Overview
Specifications
Accessories
Citations
Related Products
Overview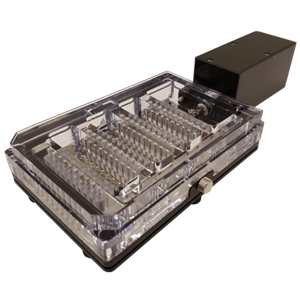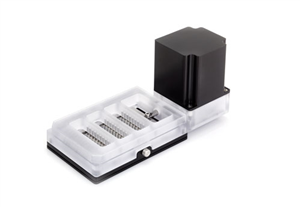 There are 2 images available to view - click to enlarge and scroll through the product gallery.
Key Features
Uniaxial stretch of 16 culture wells in a single-use silicone well plate
0.25mm thick membranes for high-magnification imaging using an inverted microscope
PC-independent operation
User-friendly interface software for specifying simple, cyclic, and intermittent stimulation protocols for download to the device controller
The MCFX uses a single-use flexible silicone well plate to culture cells in much the same environment as a traditional polystyrene well plate. After allowing the cells to develop adhesion to the well bottom, the MCFX can execute a user-specified stretch protocol to the well plate, causing the cells to deform. The well bottoms have similar optical properties to a glass coverslip, permitting high-magnification imaging of the cultured cells. The well plates can be sterilized and the system is suitable for long-term cell culture in a laboratory incubator.

Adhered Cell Monolayer Culture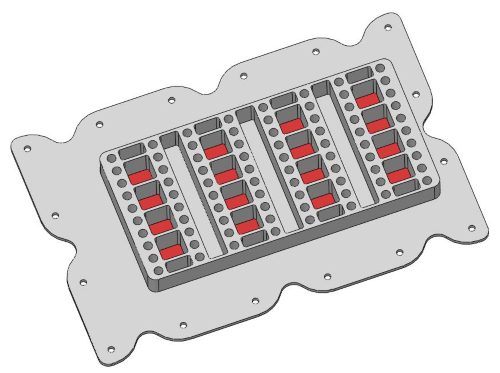 Single-use silicone well plate. Cell culture wells are 8mm X 8mm with a 0.25mm thick transparent bottom membrane. The 16 cell culture surfaces are shown in red.
3D Gel Scaffold Culture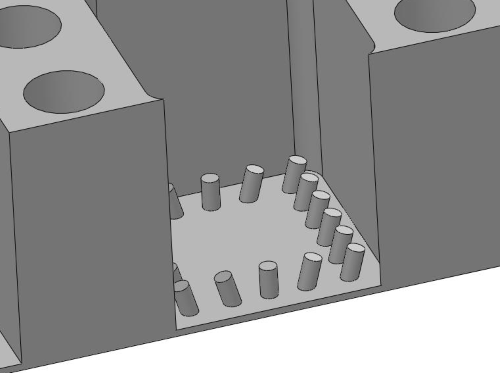 The 3D gel culture plate has 18 micro-protrusions on the bottom membrane of each well to secure the gel in place during the stretching protocol.

Specifications
| | |
| --- | --- |
| Dimensions | 19 X 9 X 10 cm |
| Weight | 1 kg |
| Stimulation mode | Uniaxial tension |
| Configuration | Cell monolayer |
| Culture area | 16 wells, 8mm X 8mm |
| Maximum strain | 12.5% |
| Maximum Velocity | 10 mm/s |
| Maximum Cycle Frequency | 5 Hz |
| Loading capacity | 30 N |
| Media volume/well | 0.5 mL |
Accessories
Citations
Angela Papalamprou, Victoria Yu, Angel Chen, Tina Stefanovic, Giselle Kaneda, Khosrowdad Salehi, Chloe Castaneda, Arkadiusz Gertych, Juliane D Glaeser, View ORCID ProfileDmitriy Sheyn (2021). Directing iPSC Differentiation into iTenocytes using Combined Scleraxis Overexpression and Cyclic Loading.
Thompson, C.L.; McFie, M.; Chapple, J.P.; Beales, P.; Knight, M.M. (2021). Polycystin-2 Is Required for Chondrocyte Mechanotransduction and Traffics to the Primary Cilium in Response to Mechanical Stimulation. International journal of molecular sciences vol. 22,9 4313. 21 Apr. 2021, doi:10.3390/ijms22094313
Tran, R.D.H.; Morris, T.A.; Gonzalez, D.; Hetta, A.H.S.H.A.; Grosberg, A. (2021). Quantitative Evaluation of Cardiac Cell Interactions and Responses to Cyclic Strain. Cells vol. 10,11 3199. 17 Nov. 2021, doi:10.3390/cells10113199
Rogers, J.D., Holmes, J.W., Saucerman, J.J. and Richardson, W.J. (2020). Mechano-Chemo Signaling Interactions Modulate Matrix Production by Cardiac Fibroblasts. Matrix biology plus vol. 10 100055. 30 Dec. 2020, doi:10.1016/j.mbplus.2020.100055
Tran, R.D., Siemens, M., Nguyen, C.H., Ochs, A.R., Zaragoza, M.V. and Grosberg, A. (2020). The Effect of Cyclic Strain on Human Fibroblasts With Lamin A/C Mutations and Its Relation to Heart Disease. Journal of biomechanical engineering vol. 142,6 (2020): 0610021–0610029. doi:10.1115/1.4044091
N. Shealy, J. Rex, A. Bradshaw, C. Gross (2019). Dynamic Stretching of Fibrillar Collagen Enhances Cross-linking by Transglutaminas. Foot & Ankle Orthopaedics, Oct. 2019, doi:10.1177/2473011419S00380.
S. N. Bradley (2018). Stretching Vascular Smooth Muscle Cells on Micropatterned Surfaces.
P.R. Sonavane, C. Wang, B. Dzamba, G.F. Weber, A. Periasamy, D.W. DeSimone (2017). Mechanical And Signaling Roles For Keratin Intermediate Filaments In The Assembly And Morphogenesis Of Mesendoderm Tissue At Gastrulation. Development (Cambridge, England) vol. 144,23 (2017): 4363-4376. doi:10.1242/dev.155200
D. Gaspar, A. Pandit, D. Zeugolis (2017). Tenogenic Phenotype Maintenance And Differentiation Using Macromolecular Crowding And Mechanical Loading. FASEB journal : official publication of the Federation of American Societies for Experimental Biology vol. 33,4 (2019): 5741-5754. doi:10.1096/fj.201802451R
RelatedItems

MCB1-200
MechanoCulture B1 - Biaxial stimulation of a cells in a monolayer or 3D matrix