MCTR
High throughput compression stimulation with real-time stiffness measurements
---
Overview
Specifications
Accessories
Citations
Related Products
Overview
There are 1 images available to view - click to enlarge and scroll through the product gallery.
Key Features
Compression stimulation of 9 culture wells in a reusable holder.
Force controlled loading up to 100N at 2Hz
Simultaneous position measurement on all 9 wells with 10µm resolution
User-friendly interface software for specifying simple, cyclic, and intermittent stimulation protocols for download to the device controller
The MCTR provides uniaxial compression to 9 cylindrical tissue constructs using pressure-driven shuttles. A user-specified loading protocol is enacted by the system and the resulting compression displacements are monitored using non-contact sensors. The transparent culture wells allow for visual confirmation of correct specimen loading and real-time imaging during the test if desired. The specimen chamber plate can be sterilized and the system is suitable for long-term cell culture in a laboratory incubator.
Specimen and Mounting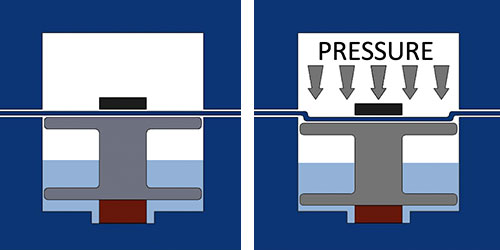 Specimen deformation is achieved by pressurizing a cavity above the culture chamber, which drives down a piston. Motion of the piston is determined by measuring the magnetic field strength of the magnet attached to the upper surface. A flexible membrane separates the sterile culture well from the pressure cavity.
HydroStatic Compression
Hydrostatic compression is achieved by filling the culture well to close to the top with the compression shuttle removed. Pressurizing the top chamber results in the flexible membrane deflecting downwards to press against the surface of the liquid.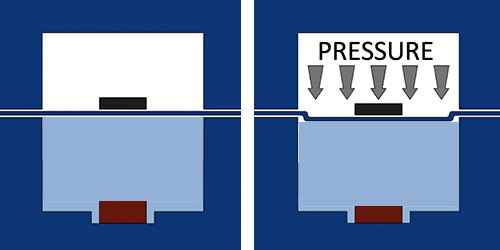 MCTR Assembly and Operation
MCTR Hydrostatic Demonstration
Specifications
| | |
| --- | --- |
| Dimensions | 14 x 14 x 6cm |
| Weight | 1kg |
| Stimulation Mode | Uniaxial Compression |
| Configuration | Cylindrical constructs up to 10mm diameter |
| Culture area | 0.2% of load cell capacity |
| Maximum displacement | 5mm |
| Displacement Resolution | 10um |
| Maximum Cycle Frequency | 2Hz |
| Maximum Data Rate | 5mL |
Accessories
Citations
RelatedItems