MCTR
High throughput compression stimulation with real-time stiffness measurements
---
Overview
Specifications
Accessories
Citations
Related Products
Overview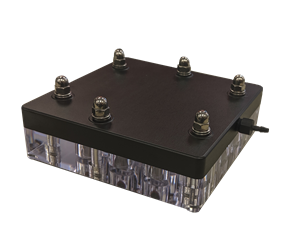 There are 1 images available to view - click to enlarge and scroll through the product gallery.
High throughput hydrostatic pressure stimulation
The MCTR provides hydrostatic compression to 9 specimens in individual wells. Pressure up to 700 kPa can be programmed onto the device. The transparent culture wells allow for visual confirmation of correct specimen loading and real-time imaging during the test if desired. The specimen chamber plate can be sterilized and the system is suitable for long-term cell culture in a laboratory incubator.
Key Features
Hydrostatic compression stimulation for up to 9 culture wells
Pressure-controlled loading up to 700kPa at 0.5Hz
User-friendly interface software for specifying simple, cyclic, and intermittent stimulation protocols for upload to the device controller
HydroStatic Compression
Hydrostatic compression is achieved by filling the culture well to close to the top with the compression shuttle removed. Pressurizing the top chamber results in the flexible membrane deflecting downwards to press against the surface of the liquid.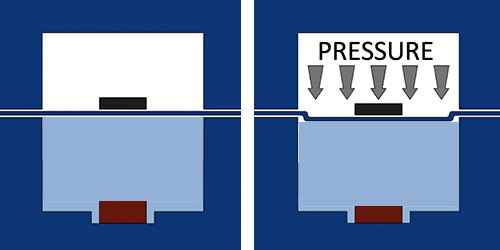 MCTR Hydrostatic Demonstration
Specifications
| | |
| --- | --- |
| Dimensions | 14 x 14 x 9cm |
| Weight | 1kg |
| Stimulation Mode | Hydrostatic Pressure Stimulation |
| Configuration | Constructs up to 20mm diameter/width |
| Maximum Pressure | 700kPa |
| Maximum Cycle Frequency | 0.5 Hz |
Accessories
Citations
RelatedItems