MT G2 MicroTester
The MicroTester is a micro-scale mechanical test system that does what others can't. Smaller specimens, better force resolution, easier test setups, and great visuals. Applications include small tissue samples, hydrogel microspheres, cell spheroids, and engineered microtissues. It is available in 2 versions to meet your specific needs
---
Overview
Specifications
Accessories
Citations
Related Products
Overview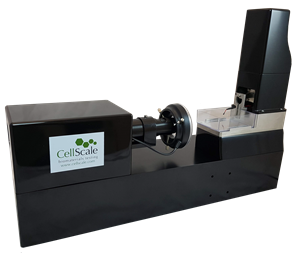 There are 1 images available to view - click to enlarge and scroll through the product gallery.
Compression, tension, bending, indentation
Shear testing test modes when combined with the optional Shear Test Module
Highest level precision using Piezo-electric actuators with 0.1µm resolution
Optional second axis imaging
Force resolution down to 10nN
High resolution CCD imaging
Integrated temperature-controlled media bath
Fully featured user interface software for simple, cyclic, relaxation, and multi-modal testing with real-time feedback
The MicroTester is a micro-scale mechanical test system that does what others can't. Smaller specimens, better force resolution, easier test setups, and great visuals. Applications include small tissue samples, hydrogel microspheres, cell spheroids, and engineered microtissues.
Videos
MicroScale Mechanical Testing Examples
Mechanical Testing of Soft Gels using the CellScale MicroSquisher
Muscle Tissue Construct Testing at Kent State University
CellScale MicroSquisher Instructional Overview
Compression Test of a Hydrogel Microsphere
Hydrogel Tension Test
Zebrafish Embryo Cell Spheroid Compression Testing
Mechanical Testing of Soft Gels
Hydrogel MicroSphere Compression Test Demonstration
Specifications
| | | |
| --- | --- | --- |
| | MTG2 | MTLT |
| Dimensions | 56 X 14 X 24cm | 52 X 17 X 21cm |
| Weight | 9kg | 6.5kg |
| Force Capacity | 500mN | 500mN |
| Available Force Transducers | 0.005, 0.02, 0.08, 0.2, 1, 5, 25, 100, 500mN | 0.005, 0.02, 0.08, 0.2, 1, 5, 25, 100, 500mN |
| Force Accuracy | Approx. 0.2% of transducer capacity | Approx. 0.2% of transducer capacity |
| Maximum Grip Separation | Approx. 10mm | Approx. 10mm |
| Maximum Velocity | 5mm/s | 5mm/s |
| Maximum Cycle Frequency | 0.1Hz | 0.1Hz |
| Maximum Data Rate | 5Hz | 5Hz |
| Actuator Technology | Piezo-electric Motor | Stepper Motor |
| Actuator Resolution | 0.1um | 1um |
| Range of Field of View | 0.4-11.0mm | 0.8-5.5mm |
| Vertical Image Resolution | 2048px | 1536px |
| Secondary Camera Option | Yes | No |
| Secondary Test Axis Option (Shear) | Yes | No |
Accessories
Citations
Bekesi, N., Dorronsoro, C., de la Hoz, A., & Marcos, S. (2016). Material Properties from Air Puff Corneal Deformation by Numerical Simulations on Model Corneas. PLOS ONE, 11(10), e0165669. http://doi.org/10.1371/journal.pone.0165669
Gillies, D., Gamal, W., & Downes, A. (2017). Real-time and non-invasive measurements of cell mechanical behaviour with optical coherence phase microscopy. Of SPIE Vol. http://doi.org/10.1117/12.2251492
Hached, F., Vinatier, C., Pinta, P.-G., Hulin, P., Le Visage, C., Weiss, P., … Grimandi, G. (2017). Polysaccharide Hydrogels Support the Long-Term Viability of Encapsulated Human Mesenchymal Stem Cells and Their Ability to Secrete Immunomodulatory Factors. Stem Cells International, 2017, 1–11. http://doi.org/10.1155/2017/9303598
Henry, N., Clouet, J., Fragale, A., Griveau, L., Chédeville, C., Véziers, J., … Le Visage, C. (2017). Pullulan microbeads/Si-HPMC hydrogel injectable system for the sustained delivery of GDF-5 and TGF-β1: new insight into intervertebral disc regenerative medicine. Drug Delivery, 24(1), 999–1010. http://doi.org/10.1080/10717544.2017.1340362
Kasukonis, B. M., Kim, J. T., Washington, T. A., & Wolchok, J. C. (2016). Development of an infusion bioreactor for the accelerated preparation of decellularized skeletal muscle scaffolds. Biotechnology Progress, 32(3), 745–755. http://doi.org/10.1002/btpr.2257
Kvasnytsia, M., Famaey, N., Böhm, M., & Verhoelst, E. (2016). Patient Specific Vascular Benchtop Models for Development and Validation of Medical Devices for Minimally Invasive Procedures. Journal of Medical Robotics Research, 1(3), 1640008. http://doi.org/10.1142/S2424905X16400080
Mironov, V., & Yu, H. (2017). Tensiometric estimation of material properties of tissue spheroids. Retrieved from http://dc.engconfintl.org/biofab_tissue_model/18/
Monaco, L. A., DeWitte-Orr, S. J., & Gregory, D. E. (2016). A comparison between porcine, ovine, and bovine intervertebral disc anatomy and single lamella annulus fibrosus tensile properties. Journal of Morphology, 277(2), 244–251. http://doi.org/10.1002/jmor.20492
Park, D. W., Sebastiani, A., Yap, C. H., Simon, M. A., & Kim, K. (2016). Quantification of Coupled Stiffness and Fiber Orientation Remodeling in Hypertensive Rat Right-Ventricular Myocardium Using 3D Ultrasound Speckle Tracking with Biaxial Testing. PLOS ONE, 11(10), e0165320. http://doi.org/10.1371/journal.pone.0165320
Pradhan, S., Clary, J. M., Seliktar, D., & Lipke, E. A. (2017). A three-dimensional spheroidal cancer model based on PEG-fibrinogen hydrogel microspheres. Biomaterials, 115, 141–154. http://doi.org/10.1016/J.BIOMATERIALS.2016.10.052
Pradhan, S., Hassani, I., Seeto, W. J., & Lipke, E. A. (2017). PEG-fibrinogen hydrogels for three-dimensional breast cancer cell culture. Journal of Biomedical Materials Research Part A, 105(1), 236–252. http://doi.org/10.1002/jbm.a.35899
Seeto, W. J., Tian, Y., Winter, R. L., Caldwell, F. J., Wooldridge, A. A., & Lipke, E. A. (2017). Encapsulation of Equine Endothelial Colony Forming Cells in Highly Uniform, Injectable Hydrogel Microspheres for Local Cell Delivery. Tissue Engineering Part C: Methods, 23(11), 815–825. http://doi.org/10.1089/ten.tec.2017.0233
Silva, K. R., Rezende, R. A., Pereira, F. D. A. S., Gruber, P., Stuart, M. P., Ovsianikov, A., … Mironov, V. (2016). Delivery of Human Adipose Stem Cells Spheroids into Lockyballs. PLOS ONE, 11(11), e0166073. http://doi.org/10.1371/journal.pone.0166073
Sivakumaran, D., Mueller, E., & Hoare, T. (2017). Microfluidic production of degradable thermoresponsive poly( N -isopropylacrylamide)-based microgels. Soft Matter, 13(47), 9060–9070. http://doi.org/10.1039/C7SM01361B
Stewart, D. M., Monaco, L. A., & Gregory, D. E. (2017). The aging disc: using an ovine model to examine age-related differences in the biomechanical properties of the intralamellar matrix of single lamellae. European Spine Journal, 26(1), 259–266. http://doi.org/10.1007/s00586-016-4603-4
Wu, S., Wang, Y., Streubel, P., & Duan, B. (2017). Living nanofiber yarn-based woven biotextiles for tendon tissue engineering using cell tri-culture and mechanical stimulation. Acta Biomaterialia. Retrieved from http://www.sciencedirect.com/science/article/pii/S1742706117305573
Yu, C., Kornmuller, A., Brown, C., Hoare, T., & Flynn, L. E. (2017). Decellularized adipose tissue microcarriers as a dynamic culture platform for human adipose-derived stem/stromal cell expansion. Biomaterials, 120, 66–80. http://doi.org/10.1016/J.BIOMATERIALS.2016.12.017
RelatedItems