LAB-TRAX-4
4-Channel Data Acquisition
---
Overview
Specifications
Accessories
Citations
Related Products
Overview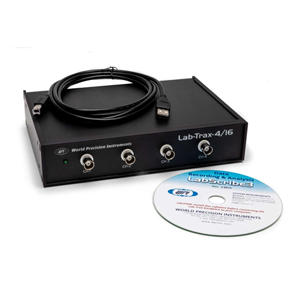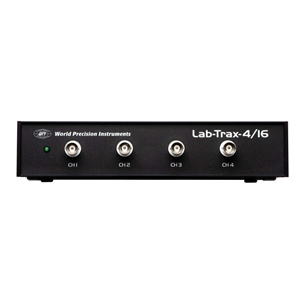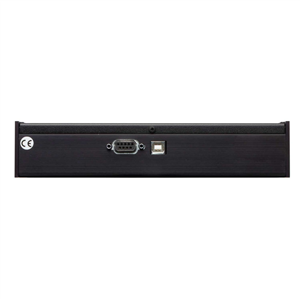 There are 3 images available to view - click to enlarge and scroll through the product gallery.
16-bit resolution
Includes LabScribe 3 software
Features
The Lab-Trax-4 (standard) device offers 16-bit resolution over the ±10V input range and exhibit less than a millivolt of noise. Data communication as well as power is managed over the USB port, making it easy to use a laptop or a low-profile desktop computer that may not be equipped with expansion slots or serial ports. Data is delivered to the recorder by way of very standard front-panel-mounted BNC connectors. The available Lab-Trax hardware together with WPI's range of signal conditioners and the LabScribe software make it the perfect choice for research systems addressing cardiovascular studies, blood pressure, cardiac electrophysiology, hemodynamic studies of the pulmonary and coronary systems, and studies of isolated tissues in organ or tissue baths. Equipment from WPI can also be used to tailor systems for epithelial studies, and many applications in neurophysiology.
Specifications
| | |
| --- | --- |
| Number of Inputs | 4 |
| ADC Resolution | 16 bit |
| Maximum Sampling Rate | 10,000 samples / sec aggregate |
| Input Connectors | BNC, 50 ohm |
| Input Impedance | 1M Ohm |
| Input Range | ±10 V |
| System Noise | < 1mV (1 part in 20,000) |
| Digital Input/Output | 4 inputs 4 outputs |
| Power Source | Powered via USB |
| Operating Current | 100 mA |
| PC Interface | USB 2.0 |
| Maximum Input Voltage | ±10 volts (100 with x10 probe) |
Recommended Computer Requirements:
Dual Core 3GHz CPU
2-4 Gb RAM
80 Gb Hard drive
Accessories
Citations
BARSEGHYAN, S. (2013). EFFECTS OF EXTREMELY LOW FREQUENCY ELECTROMAGNETIC FIELD AND MECHANICAL VIBRATION ON SPECIFIC ELECTRICAL CONDUCTIVITY. Chemistry and Biology. Retrieved from https://www.ysu.am/files/4.OF
ELF-EMF AND MV ON SPECIFIC ELECTRICAL CONDUCTIVITY OF WATER AND WATER SOLUTIONS.pdf Baskakov, M. (2014). Ionic Mechanisms of Carbon Monoxide Action on the Contractile Properties of the Vascular Smooth Muscles. … of Physiology and …. Retrieved from https://www.dl.begellhouse.com/journals/6ec4ba27650016b1,2b2d76a421210829,6737e88733e2db67.html
Bei, Y., Hua-Huy, T., & Duong-Quy, S. (2013). Long-term treatment with fasudil improves bleomycin-induced pulmonary fibrosis and pulmonary hypertension via inhibition of Smad2/3 phosphorylation. Pulmonary …. Retrieved from https://www.sciencedirect.com/science/article/pii/S109455391300148X
Klymenko, K., & Novokhatska, T. (2014). PKC-δ isozyme gene silencing restores vascular function in diabetic rat. Journal of basic and …. Retrieved from https://www.degruyter.com/view/j/jbcpp-ahead-of-print/jbcpp-2013-0147/jbcpp-2013-0147.xml
Novokhatska, T., & Tishkin, S. (2013). Correction of vascular hypercontractility in spontaneously hypertensive rats using shRNAs-induced delta protein kinase C gene silencing. European journal of …. Retrieved from https://www.sciencedirect.com/science/article/pii/S0014299913005700
Vinet, R., Araos, P., & GENTINA, J. (2014). p-Coumaric acid reduces high glucose-mediated impairment of endothelium-dependent relaxation in rat aorta. … Latinoamericano y del …. Retrieved from https://www.redalyc.org/articulo.oa?id=85631010002
Vinet, R., Araos, P., Knox, M., & Guzmán, L. (2014). Ácido p-cumárico reduce el deterioro mediado por alta glucosa de la relajación dependiente de endotelio en aorta de rata. Boletín Latinoamericano y …. Retrieved from https://www.revistas.usach.cl/ojs/index.php/blacpma/article/view/1509
RelatedItems