FD3510-100
FluoroDish Cell Culture Dish - 35mm, 10mm well, pkg of 100, individually packed
---
Overview
Specifications
Accessories
Citations
Related Products
Overview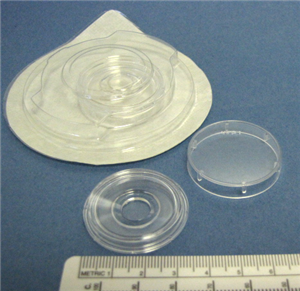 There are 2 images available to view - click to enlarge and scroll through the product gallery.
Optical quality glass bottom (10mm diameter) for better imaging quality
Low sample volume for expensive chemicals
Lowest access angle for micropipette
Low toxicity adhesive for embryo research
box of 100
Measurements
ID: 10mm
OD: 35.5mm
Glass Diameter Φ: 10mm
height (inside): 1.5mm
Height (outside): 4.65mm
Access angle: 17 degrees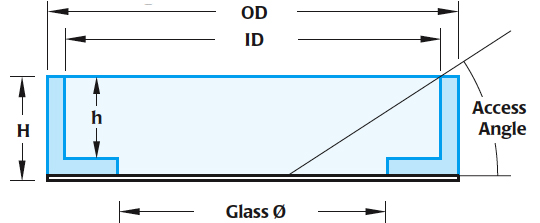 Exceptional Imaging Quality
WPI's FluoroDish™ tissue culture dishes are now available in a larger range of sizes and coatings. These polycarbonate dishes provide exceptional imaging quality for many applications requiring the use of inverted microscopes such as high resolution image analysis, microinjection and electrophysical recording of fluorescent-tagged cells. Taking advantage of WPI's extensive experience with low toxicity adhesives, FluoroDish uses a specially formulated adhesive that is optically clear, durable and with extremely low toxicity. Tests by an independent laboratory have shown that the 96-hour surviving rate of embryos is 100% when kept in FluoroDish, substantially better than some other brands. The bottom glass has superior UV transmission (30% transmission at 300 nm, compared to less than 7% for the most popular German glass). Stringent quality control ensures that glass thickness stays within the 0.17 ±0.01 mm range.
Excellent for both classical and fluorescence microscopy
Each WPI dish has a flat (0.17 mm thick) optical quality glass bottom, allowing the use of a short objective working distance, large numerical aperture (NA), and a high magnification (up to 100x). The larger NA and higher magnification provide superior quality imaging for both classical and fluorescence microscopy. Higher effective NA yields brighter images for fluorescence and higher resolution in Image Analysis. The glass bottom permits the use of immersion objectives with medium such as water, glycerin or oil for the highest magnification possible. To optimize heat-exchange, WPI's glass-bottom dish is designed to be flush (flat) with the microscope stage or heating unit, therefore eliminating the air gap that exists with modified plastic dishes in which a glass cover slip has been inserted.
Materials
An inner well is created within the dish by the glass bottom and the tissue culture grade polystyrene which forms the sides of the dish. All WPI dishes have the advantages of low toxicity and good UV transmission bottom glass. They are individually packed and gamma sterilized.
Features
The 35 mm dish has outside dimensions similar to that of a Corning 35 mm dish and a ø10?mm glass window. Most heaters and perfusion adapters designed for the Corning 35 mm dish will also fit this dish. Certain types of cell lines (e.g., PC3 and HEK) adhere well to the uncoated glass bottom dish. The users can also apply to the uncoated dish any special coating that is best for their cell line. The 10 mm glass window dish (FD3510) has low sidewall for easy microelectrode access and low solution volume. The low microelectrode access angle is the lowest among all of 35 mm dishes on the market (very close that of a 50 mm dish). The dish needs only 100 ~ 200 mL to cover the bottom well, an important feature when using expensive drugs and chemicals.
Specifications
Accessories
Citations
RelatedItems