MF200-2
Microforge & W30S-LED Stereo Microscope 220 v
---
Overview
Specifications
Accessories
Citations
Related Products
Overview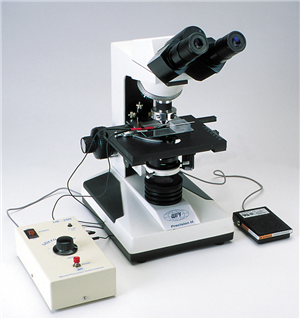 There are 1 images available to view - click to enlarge and scroll through the product gallery.
Simple, reliable, and economically priced
Fabricate glass micropipettes
Analog temperature controller
W30S-LED microscope included
Applications
The MF200 Microforge is a versatile instrument designed specifically for the fabrication of glass micropipettes and other related tools. The system was developed in collaboration with Dr. Ming Li of the Department of Pharmacology, University of South Alabama. It is perfect for patch pipette tip polishing, tip size reduction, contact stretching, in vitro fertilization pipette production and a variety of other pipette configurations. The MF200 simple, reliable and is priced economically.
Features
The MF200 system includes: An easy to use analog temperature controller, a specially configured WPI model W30S-LED research grade compound microscope, 40x long-working distance objective and 10x eyepiece. 40x magnification is essential when polishing pipettes as small as half a micron (0.5 µm) in diameter. Compared to a conventional 40x objective, the long working distance objective reduces the danger of damage to the pipette and/or objective lens during the polishing process. It is also the only commercial microforge using the Kohler illuminator and Abbe condenser for illumination. This provides less glare and sharper image of the pipette than frosted glass illuminator, which was used on all of the other commercial Microforge.
Specifications
| | |
| --- | --- |
| AC POWER MODULE | 100-240 VAC 50/60 Hz |
| FILAMENTS (3) | H2, H3, H4 |
| FILAMENT ON | Pushbutton Controlled or Optional Foot Switch Controlled |
| FILAMENT ADJUSTMENT ASSEMBLY | For 40x and 25x Long-Working, Distance Objectives: mounts on objective |
| FILAMENT ADJUSTMENT ASSEMBLY: OBJECTIVE | 40x Long-Working Distance (3 mm) |
| FILAMENT ADJUSTMENT ASSEMBLY: OPTIONAL | 25x Long-Working Distance (5 mm) |
| EYEPIECE | 10x (pair) |
| EYEPIECE: RETICLE (10x eyepiece only) | 1.25 µm/division (at 40x), 0-90º Angle at 5º/division |
| EYEPIECE: OPTIONAL EYEPIECE | 15x (pair) |
| GLASS HOLDER | Mounts on Microscope Stage |
| DIMENSIONS: Control Unit | 4 x 7 x 1.875in. (10.2 x 17.8 x 4.8 cm) |
| SHIPPING WEIGHT | 3 lb. (1.4 kg) |
| MICROSCOPE: | See W30S-LED |
| MICROSCOPE: SHIPPING WEIGHT | 16 lb. (7.3 kg) |
Accessories

MF200-FS
Footswitch for the DMF1000 and MF200
Citations
Kadeba, P., Vasauskas, A., & Chen, H. (2013). Regulation of store-operated calcium entry by FK506-binding immunophilins. Cell calcium. Retrieved from https://www.sciencedirect.com/science/article/pii/S0143416012002126
Koselski, M., Trebacz, K., & Dziubinska, H. (2013). Cation-permeable vacuolar ion channels in the moss Physcomitrella patens: a patch-clamp study. Planta. Retrieved from https://link.springer.com/article/10.1007/s00425-013-1902-4
Kupisz, K., Trebacz, K., & Gruszecki, W. (2014). Menthol-induced action potentials in Conocephalum conicum as a result of unspecific interactions between menthol and the lipid phase of the plasma membrane? Physiologia plantarum. Retrieved from https://onlinelibrary.wiley.com/doi/10.1111/ppl.12288/abstract
Li, Z., Huang, H., & Yang, B. (2013). Amino acid substitutions in the pore affect the anomalous mole fraction effect of CaV1. 2 channels. Molecular …. Retrieved from https://www.spandidos-publications.com/mmr/7/2/571?text=abstract
Lu, X., Deckey, R., Jiao, G., Ren, H., & Li, M. (2013). Caribbean maitotoxin elevates i and activates non-selective cation channels in HIT-T15 cells. World journal of diabetes. Retrieved from https://www.ncbi.nlm.nih.gov/pmc/articles/PMC3680626/
Nguyen, H., Badie, N., & McSpadden, L. (2014). Quantifying Electrical Interactions Between Cardiomyocytes and Other Cells in Micropatterned Cell Pairs. Cardiac Tissue …. Retrieved from https://link.springer.com/protocol/10.1007/978-1-4939-1047-2_21
Pawlikowska-Pawlega, B., & Dziubinska, H. (2014). Characteristics of quercetin interactions with liposomal and vacuolar membranes. … et Biophysica Acta (BBA …. Retrieved from https://www.sciencedirect.com/science/article/pii/S0005273613002915
Shepherd, A., Loo, L., & Mohapatra, D. (2013). Chemokine co-receptor CCR5/CXCR4-dependent modulation of Kv2. 1 channel confers acute neuroprotection to HIV-1 glycoprotein gp120 exposure. PloS one. Retrieved from https://dx.plos.org/10.1371/journal.pone.0076698
Vasauskas, A., Chen, H., Wu, S., & Cioffi, D. (2014). The serine-threonine phosphatase calcineurin is a regulator of endothelial store-operated calcium entry. Pulmonary Circulation. Retrieved from https://www.jstor.org/stable/10.1086/675641
RelatedItems