LAMBDA-XL
Extended Life Light Source
---
Overview
Specifications
Accessories
Citations
Related Products
Overview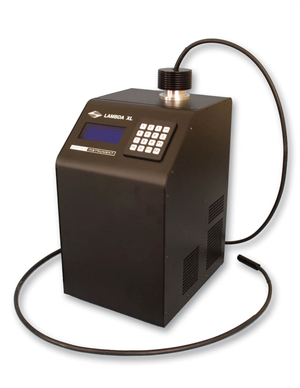 There are 1 images available to view - click to enlarge and scroll through the product gallery.
FEATURES
10,000 hour expected lifetime**
Low light loss throughout bulb lifetime
No high-voltage pulse
Built-in driver for filterwheel and SmartShutter®
Very stable output
Compact stand-alone design
USB interface
The newest member of our optical product family, the Lambda XL, is a broad spectrum, highly stable light source (±1% peak-to-peak fluctuations) with an average lamp lifetime of 10,000 hours. The connection to the microscope is made through a liquid light guide, which assures output uniformity in the field of view. Two light guide options are available, one optimized for the near UV-visible and the other for the visible-near IR regions. The output at the end of the light guide is similar to that of our popular 300W Lambda LS xenon arc light source. The lamp module is expected to last in excess of 10,000 hours and maintain at least 50% of its original intensity.
The compact, stand-alone cabinet design contains the bulb, lamp housing, power supply, optics and a Lambda 10-B controller board in a single enclosure. The design allows an optional filter wheel and SmartShutter® to be installed in the enclosure, making it a versatile choice for fluorescence imaging applications. The Sutter filter wheel with SmartShutter® or the stand-alone SmartShutter® can be accommodated within the body of the Lambda XL.
The light intensity can be adjusted to different levels of attenuation. When the optional filter wheel is used, each filter position can be associated with its own attenuation level, selected every time the filter is called*.
Mounting adapters for Nikon, Olympus, Zeiss and Leica microscopes are available.
* Patent pending
** Bulb carries a prorated 2-year warranty
Specifications
TECHNICAL SPECIFICATIONS
Output Range
330 to 700nm
Lamp Life
Approximately 10,000 hours
Dimensions
9.4in x 7.6in x 12.6in | 23.9cm x 19.3cm x 32cm
Weight
16.35 lbs | 7.4 kg
Electrical
120/240 Volts
50/60 Hertz power line
RoHS Compliant
ACCESSORIES
LLG/XL
Liquid light (2 meters, 3mm diameter) and heat sink
LLG/5XL1
Liquid light (2 meters, 5mm diameter) and heat sink
LLG/XL3802
Liquid light (2 meters, 3mm diameter) and heat sink
LLG/5XL3802
Liquid light (2 meters, 5mm diameter) and heat sink
IQ25-XL
25mm SmartShutter® with housing to fit Lambda XL
LB10-NWIQ/XL
10 position 25mm filter wheel with SmartShutter® for mounting in Lambda XL
LB10-WHS4IQ/XL
4 position filter wheel with SmartShutter® for mounting in Lambda XL
O8001153
Replacement lamp
O7776564
Replacement 5mm light guide (300 series)
O777648
Replacement 5mm light guide (380 series)

1 This lightguide offers a larger field of view but less intensity per unit area
2 Allows higher output into the near IR
3 Requires installation and re-alignment at Sutter
4 Maximum UV transmission
Accessories
Citations
Balvan, J., Krizova, A., & Gumulec, J. (2015). Multimodal holographic microscopy: distinction between apoptosis and oncosis. PloS One. Retrieved from https://dx.plos.org/10.1371/journal.pone.0121674
Dhumpa, R., Truong, T., & Wang, X. (2014). Negative Feedback Synchronizes Islets of Langerhans. Biophysical Journal. Retrieved from https://www.sciencedirect.com/science/article/pii/S0006349514003981
Kopp, R., Leech, C., & Roe, M. (2014). Resveratrol interferes with Fura-2 intracellular calcium measurements. Journal of Fluorescence. Retrieved from https://link.springer.com/article/10.1007/s10895-013-1312-9
Momin, N., Lee, S., Gadok, A., & Busch, D. (2015). Designing lipids for selective partitioning into liquid ordered membrane domains. Soft Matter. Retrieved from https://pubs.rsc.org/en/content/articlehtml/2015/sm/c4sm02856b
Shabanzadeh, A., & Tassew, N. (2015). Uncoupling Neogenin association with lipid rafts promotes neuronal survival and functional recovery after stroke. Cell Death & …. Retrieved from https://www.nature.com/cddis/journal/v6/n5/abs/cddis2015109a.html
Zhao, Y., Yang, Y., & Loscalzo, J. (2014). Real time Measurement of Metabolic States in Living Cells using Genetically-encoded NADH Sensors. Methods in Enzymology. Retrieved from https://www.ncbi.nlm.nih.gov/pmc/articles/PMC4189816/
RelatedItems

LAMBDA-LS
Stand-Alone Xenon Arc Lamp and Power Supply