TP Series
Microscope-Stage Automatic Thermocontrol System. Ensures more accurate and more reliable thermal control of the specimens during the observation under a microscope.
---
Overview
Specifications
Accessories
Citations
Related Products
Overview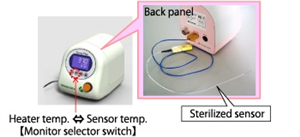 There are 2 images available to view - click to enlarge and scroll through the product gallery.
smart1
Enables on site calibration
A sterilized sensor measures the actual temperature. It allows you to calibrate yourself with easy operation and provide optimal environment for your laboratory. Furthermore, with the sensor, the system is able to be used as thermometer.
smart2
Stable Imaging, Effective for high magnification
Continuous Current Control minimizes focus drift compared to the standard On Off control method. Especially effective for observation when high magnification is required
smart3
Temperature management Software "TEM"
Monitors, records, logs sample or plate temperature which the sensor measures. Save the data as CSV format which can be used on the spreadsheet.
Please select from the following series depends on specifications or temperature for your observation. The controller type is different for the series.
| | | |
| --- | --- | --- |
| Standard series | Preset Temp.: Room Temp.~50C | The plate utilizes a special transparent heating material coated onto a hard glass. Several shapes of plate are available for different microscope stages. Main Applications: Temperature control of specimen in life science. |
| Imaging series | Preset Temp.: Room Temp.~50C | Minimizes focus drift when using high-magnification lenses and oil/water immersion lenses. Main Application: live cell imaging when using high magnification lenses. |
| Cooling and Heating series | Preset Temp.: 4C~60C | The application of a thermoelectric cooling device and unique control system provides a compact and highly responsive cooling and heating system. Enables temperature control near room temperature Main Application: Observations like yeast, plants, marine life, cell culture etc.. Temperature: near 20?…C.elegans/ near 25?…drosophila, zebra fish/ 37?…cultured cell |
Specifications
Accessories
Citations
RelatedItems