SI-TM1
Papillary Muscle Tissue Mount
---
Overview
Specifications
Accessories
Citations
Related Products
Overview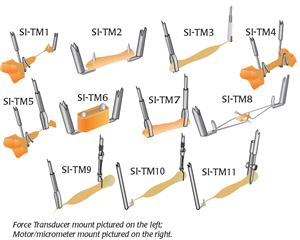 There are 1 images available to view - click to enlarge and scroll through the product gallery.
Basket and Pointed Hook
Available in 4 sizes; specify the force transducer to be used.
For use with SI-KG force transducers used in the SI-MT and SI-MKB systems
Mounting hooks are sold in kits. Currently, there are 11 kit configurations, most available in four different sizes. The mounting hook size that is required depends on the force transducer used. The primary tissue mounting hooks include:
Baskets
Pointed hooks
Blunt hooks
Tweezers
Spring clips
Screw clamps
Tendon hooks
Vascular hooks are available for mounting blood vessels (rings). They are normally used with a pair of blunt hooks (SI-TM8). For larger muscles, screw clamps (SI-TM11) and spring clips (SI-TM9, SI-TM10) are available.
The micrometer and motor receive a large (SI-KG4 size) tissue mount. If a smaller tissue mount is used, the 97909 adapter is required. This adapter is included with every Muscle Tester system.
When ordering tissue mounts, specify the tissue mount configuration and force transducer to be used.
Specifications
Accessories
Citations
RelatedItems