AL-1800
Aladdin SyringeEIGHT Programmable 8 Channel Syringe Pump - Holds 2, 4, 6 or 8 syringes of up to 10 cc
---
Overview
Specifications
Accessories
Citations
Related Products
Overview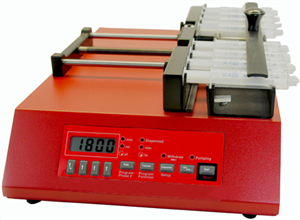 There are 1 images available to view - click to enlarge and scroll through the product gallery.
Holds 2, 4, 6 or 8 syringes of up to 10 cc

Infusion rates from 0.45 µL/hr (1 mL syringe) to 415.9 mL/hr (10 mL syringe)

Operates stand-alone or from a computer

Programmable preset protocols

RS-232 and TTL logic control interfaces

Motor stall detection

Non-volatile memory of all parameters and programming

Upgradeable memory

Dispensing accuracy of ±1%
| | |
| --- | --- |
| Channels | 8 |
| Type | Infusion / Withdrawal |
| Flow Range | 0.001 µL/hr (0.5 µL syringe) to 415.9 mL/hr (10 mL syringe) |
| Dispensing Accuracy | ±1% |
| Syringe Sizes Accepted | 0.5 µL to 10 mL |
| Linear Force Applied To All Syringes | 160 lb at low speed; 30 lb at maximum speed |
The AL-1800 Programmable Syringe Pump is perfect for situations requiring flexibility or automation.
With a variety of pumping rates (0.45 µL/hr to 415.9 mL/hr), infusion and withdraw capability, and pumping phases that can be programmed, the AL-1800 was designed for automation. This pump can handle applications like simple infusions, as well as complex pumping programs.
You can program up to 41 pumping phases that change pumping rates, set dispensing volumes, insert pauses, control and respond to external signals, or sound an alarm. Connect two pumps with a dual cable (WPI #GN-TTL) to create a dual pump system that allows for continuous infusion or emulsification. If required, you can network, control and monitor up to 100 pumps with a single computer.
AL-1800 Eight-Channel Syringe Pump Example Flow Rates
| | | |
| --- | --- | --- |
| Syringe Size | Maximum Rate | Minimum Rate |
| 0.5 µL | 17.45 µL/hr | 0.001 µL/hr |
| 1 mL | 36.19 mL/hr | 0.452 µL/hr |
| 3 mL | 153.2 mL/hr | 1.914 µL/hr |
| 5 mL | 255 mL/hr | 3.185 µL/hr |
| 10 mL | 415.9 mL/hr | 5.195 µL/hr |
Specifications
| | |
| --- | --- |
| Syringe Sizes | Up to 10mL |
| Number of Syringes | 2, 4, 6 or 8 |
| Motor Type | Step Motor, 1/8 to 1/4 step modes |
| Steps per Revolution | 200 |
| Advance per Step | 0.132291667µM to 0.264583333µM depending on motor speed |
| Motor to Drive Screw Ratio | 5/1 |
| Drive Screw Pitch | 24 revolutions/inch |
| Power Supply | Wall adapter 12V DC @ 1000 mA |
| DC Connector | 2.5mm, center positive |
| Power Supply Type | Unregulated linear external wall adapter, country and power source specific |
| Dimensions | 26.03 x 38.1 x 12.7 cm (10 1/4 x 15 x 5 in.) |
| Weight | 4,595 kg (10.125 lbs) |
| Max. Speed | 3.4917cm/min |
| Min. Speed | 0.0026cm/hr |
| Max. Pumping Rate | 342.6 mL/hr. with a B-D 10cc syringe |
| Min. Pumping Rate | 0.454 μL/hr. with a B-D 1cc syringe |
| Max. Force applied to all syringes | 160 lbs. at minimum speed, 30 lbs. at maximum speed |
Accessories
Citations
RelatedItems