AL-300
Aladdin InfusionONE Syringe Pump
---
Overview
Specifications
Accessories
Citations
Related Products
Overview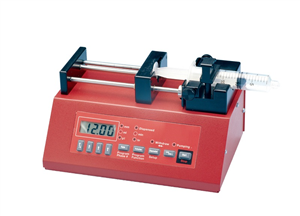 There are 1 images available to view - click to enlarge and scroll through the product gallery.
Just the features that you want, and none that you don't want to pay for.
Holds big or small syringes up to 60 mL

Pumps continuously until you stop the pump

Change infusion rate while pumping

Remembers previous settings on power up

Syringe purge mode

Power failure mode – continue pumping after reset

Displays total volume dispensed in mL or µL

Precise, reproducible flow rates

Selectable infusion rates: mL/hr, µL/hr, mL/min, µL/min

Infusion Rates: 0.73 µL/hr (1 mL syringe) to 1,500 mL/hr (60 mL syringe)
| | |
| --- | --- |
| Channels | 1 |
| Type | Infusion |
| Flow Range | 0.73 µL/hr (1 mL syringe) to 1500 mL/hr (60 mL syringe) |
| Dispensing Accuracy | ±1% |
| Syringe Sizes Accepted | 0.5 µL to 60 mL or 140 mL partially filled |
| Linear Force | Standard (35 lb at low speed) |
To meet the demands of a busy lab Aladdin Pumps offer exceptional value providing versatility and reliability for accurately dispensing media down into the nanoliter range.
The Aladdin AL-300 is a cost effective model when you require infusion only pumping. The pump does not withdraw, no volume target, no computer interface or programibility. Just the featueres you want to pay for!
Specifications
| | |
| --- | --- |
| SYRINGE SIZES | up to 60 mL |
| NUMBER OF SYRINGES | 1 |
| MOTOR TYPE | Step Motor, 1/8 to 1/2 step modes |
| STEPS PER REVOLUTIONS | 400 |
| STEPPING (max. min.) | 0.21µm to 0.850µm |
| MOTOR TO DRIVE SCREW RATIO | 15/28 |
| SPEED(max./min.) | 3.7742 cm/min / 0.004205 cm/hr |
| PUMPING RATES | 1257 mL/hr with 60mL syringe, to 0.73µL/hr with 1mL syringe |
| MAXIMUM FORCE | 35 lb at min. speed, 18 lb at max. speed |
| POWER SUPPLY | Wall adapter 12V DC @ 800mA |
| DIMENSIONS | 22.9 x 14.6 x 11.4 cm (8.75 x 5.75 x 4.5 in.) |
| WEIGHT | 1.6 kg (3.6 lb) |
Accessories
RelatedItems