SPLG100
Legato 100 Single Syringe Infuse Only
---
Overview
Specifications
Accessories
Citations
Related Products
Overview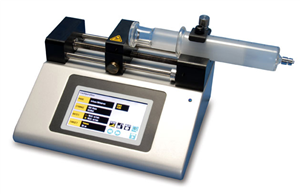 There are 1 images available to view - click to enlarge and scroll through the product gallery.
The KD Scientific Legato 100 and 200 series offer unparalleled ease of use through the high resolution touch screen user interface. The full touch screen interface enables the user to quickly create configurations and recall them for ease of use. The TFT colour display presents all the pump operating parameters on an easy to view run screen.
The password feature prevents accidental configuration changes ensuring the program integrity is retained. The pumps are versatile and can be interconnected through the RS485 interface. Legato 100 and 200 series models can be mixed and matched in the daisy chain offering maximum flexibility. Up to 99 pump can be linked together through the RS485 interface.
The Legato optimizes your lab bench space. For limited laboratory space the Legato 100 and 200 series can be placed on its side to reduce the footprint. The display can also be changed to allow the user to operate the pump vertically.
LEGATO 100 INFUSE ONLY SYRINGE PUMP
Infuse only single syringe pump. Accommodates syringes from 0.5ul to 60ml. User definable flow rates with selectable target volume or time values to control the total infusion volume.
Features:
Holds one syringe from 0.5ul to 60ml
Stall detection
High resolution colour touch screen
Unparalleled ease of use
Password protected touch display
Run LED light on front panel
Full metal chassis
Built in syringe table
Up to 30 lbs/13kg linear force
Advanced microstepping techniques
Built in RS485 interface
USB port
I/O & TTL interface
Continuous mode of operation
Spill dam
Specifications
Accuracy:
± 0.5%
Reproducibility
± 0.05%
Syringes (Min/Max)
0.5 ul to 60ml
Flow Rate:
Minimum (0.5 ul syringe): 1.28 pl/min
Maximum (10ml syringe): 25.99 ml/min
Maximum (60ml syringe): 88.28 ml/min
Display
4.3 WQVGA TFT Color Display with Touchpad
Non-Volatile Memory
Stores all Settings
Connectors:
RS485 - IEEE-1394 6 pos
USB - Type B
I/O & TTL - 15 pin D-Sub Connector
Linear Force (Max)
13.6 kg (30 lbs) @ 100% Force Selection
Drive Motor
0.9 degree Stepper Motor
Motor Drive Control
Microprocessor with 1/16 microstepping
Number of Microsteps per one rev. of Lead Screw
15,360
Step Rate - Minimum
27.5 sec/ustep
Step Rate - Maximum
26 usec/ustep
Pusher Travel Rate - Minimum
0.15 um/min
Pusher Travel Rate - Maximum
159 mm/min
Power
100-240 VAC: 50/60 Hz, 50 W, 0.5 A fuse
Dimensions
22.6 x 19.05 x 15 cm (9 x 7.5 x 5 in)
Weight
2.66 kg (5.9 lbs)
Operating Temperature
4 degree'C to 40 degree C (40 degree F to 104 degree F)
Storage Temperature
-10 degreeC to 70 degree C (14 degree F to 158 degree F)
Humidity
20% to 80% RH non condensing
Mode of Operation
Continuous
Classification
Class 1
Pollution Degree
1
Installation Category
11
Regulatory Certification
CE, UL, CSA, CB Scheme, EU RoHS
Accessories
Citations
RelatedItems
AL1000-220
Aladdin Programmable Syringe Pump