SPLG200
Legato 200 Two-Syringe Pump Infuse Only
---
Overview
Specifications
Accessories
Citations
Related Products
Overview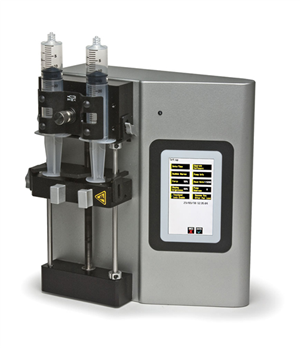 There are 1 images available to view - click to enlarge and scroll through the product gallery.
Features
Easy to configure
Easy to use
Vertical mounting
Quick release pusher block
Wide clamp for larger syringes
Multi-size syringes
Anti-siphon bracket
RS232 computer connection, USB serial input, RS485 for networking pumps
Wide variety of applications
Worldwide regulatory complianc
This new SPL series of pumps show all the pertinent, real-time information on a single touch screen display.Information displayed includes flow rate, grading syringe volume, total remaining time and total volume delivered. Recognizable, international icons make it easy to use.
To conserve table space, mount the SPL pump vertically. The display automatically reorients itself for easy vertical operation.
The welded, unibody, steel chassis of the SPL pumps makes them quieter to operate. It also offers less vibration, no deformation and excellent EMI/RFI
shielding.
The one-touch operation makes the SPL pump easy to configure, and its 15-character labeling system makes saved programs quick to identify. You can easily transfer recipes between pumps for consistent configuration without reprogramming. Pumps can be connected for gradients, increased flow capacity and simultaneous multitests.
This family of pumps includes:
Infuse only (WPI #SPLG200)
Infuse/withdraw (WPI #SPLG210)
Infuse/withdraw programmable (WPI #SPLG212)
Push-pull (WPI #SPLG270)
Push-pull programmable (WPI #SPLG272)
Specifications
| | |
| --- | --- |
| Mode | Infusion |
| Accuracy | ±0.35% |
| Reproducibility | ±0.5% |
| Syringes (min./max.) | 0.5μL/140mL |
| low rate minimum (0.5μL) | 5pL/min. |
| Flow rate maximum (140mL syringe) | 215.803mL/min. |
| Display | 4.3" WQVGA TFT color display with touch pad |
| Non-volatile memory | Stores all settings |
| Connectors: | |
| RS-232 | 9-pin D-sub connector |
| RS-485 | IEEE-1394, 6 pos |
| USB | type B |
| I/O and TTL | 15-pin D-sub connector |
| Linear force (maximum) | 34kg (75 lb.) @ 100% force selection |
| Drive motor | 1.8º stepper motor |
| Motor drive control | Microprocessor with 1/16 microstepping |
| Number of microsteps per one rev. of lead screw | 6,400 |
| Step rate minimum | 27.5 sec./µstep |
| Step rate maximum | 26µsec./µstep |
| Pusher travel rate minimum | 0.36µm/min |
| Pusher travel rate maximum | 190.80mm/min. |
| Power | 100-240VAC; 50/60Hz; 50W; 0.5A fuse |
| Dimensions | 8.89 x 25.4 x 27.94cm (3.5 x 10 x 11") |
| Weight | 4.9kg (10.75 lb.) |
| Atmospheric specifications: | |
| Operating temperature | 4–40ºC (40–104ºF) |
| Storage temperature | -10–70ºC (14–158ºF) |
| Humidity | 20–80%RH, non-condensing |
| Mode of operation | Continuous |
| Classification | Class I |
| Pollution degree | 1 |
| Installation Category | II |
| Regulatory Certifications | CE, UL, CSA, CB Scheme, EU RoHS |
Accessories
Citations
RelatedItems