D4H
Deuterium/Halogen Fiber Light Source
---
Overview
Specifications
Accessories
Citations
Related Products
Overview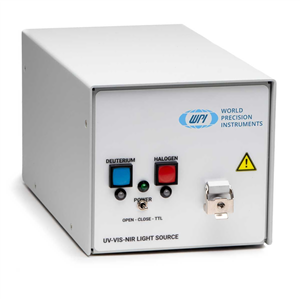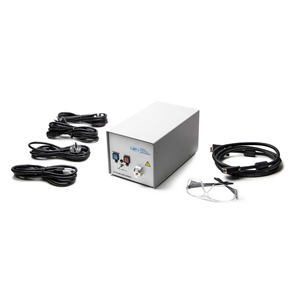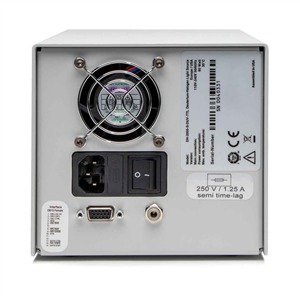 There are 3 images available to view - click to enlarge and scroll through the product gallery.
UV/VIS/NIR continuous fiber optic light source
Wavelength range: 200-1700nm
Integrated shutter with switch and TTL control
SMA fiber optic connection
Separate UV and VIS bulb control
High output: twice the intensity (compared to conventional models)
High stability
Long Life Lamp: 2000 hours
External Control
Shutter Function
The D4H is a combined deuterium and halogen light source for UV/VIS and NIR applications. This light source is ideally suited to work with WPI's spectrometer modules and sample cells. It supplies a continuous spectrum in the UV, VIS and NIR range from 200 nm to 1700 nm. The D4H is equipped with an integrated electrical shutter, which can be controlled by a switch or a TTL signal.
Benefits
Matched deuterium and halogen bulbs
Matched optical output for WPI's flow cells and fiber optic probes
Ultra Low drift < 1 mAU/h @ 254 nm
Simple exchange of light bulbs
Applications
UV/VIS/NIR absorbance spectroscopy
Excitation light source for fluorescence applications
Colored Dissolved Organic Matter (CDOM) detection in seawater
Nutrient Analysis in fresh water, drinking water and seawater using WPI's LWCCs
Protein detection using WPI's V-Vette or DIP UV MINI fiber optic probes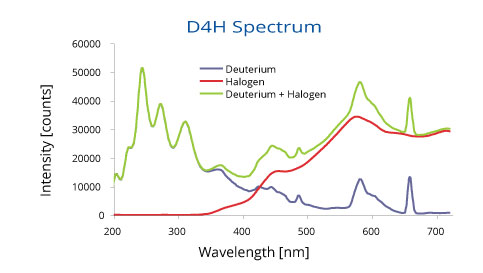 Specifications
| | |
| --- | --- |
| LIGHT SOURCE SPECIFICATIONS | D4H |
| Application | UV/VIS/NIR |
| Spectral Range | 200—1700 nm |
| Deuterium Lamp Life | 2000 hr |
| Tungsten/Halogen Lamp Life | 2000 hr |
| Stability | 1-2 mAU/h |
| Drift | <1 mAU/h |
| Power Consumption | 140 W |
| Power Requirements | 110/240V, 50-60Hz, 1A |
| Shutter / TTL Trigger | Yes |
| Max Fiber Output | 1000 µm |
| Connections | SMA |
| Shipping Weight | 6 kg |
| Dimensions (W/H/L) | 17.8 x 15.7 x 25 cm |
| Notes | *Lamp life is dependent upon internal power settings. |
Accessories
Citations
RelatedItems