SutterPatch
Data Acquisition and Analysis Software
---
Overview
Specifications
Accessories
Citations
Related Products
Overview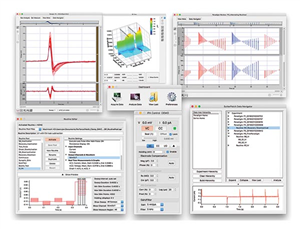 There are 1 images available to view - click to enlarge and scroll through the product gallery.
Download

SutterPatch v2.0.1 (build 204); February 20th, 2019 - Release Notes

Windows Installers (Windows 7 or later, 64-bit)
Macintosh Installers (OS X 10.11 or newer)
Software Trial
If you are planning to evaluate SutterPatch and Igor Pro 7, you can activate a trial license of Igor Pro. After 30 days, a number of features, such as saving, printing and copying to the clipboard will be disabled.
SutterPatch Software comes as part of the IPA™ Integrated Patch Amplifier and includes a license of Igor Pro 7 by WaveMetrics, Inc. The full installers available on this page include the Igor Pro 7 installer. If you previously installed SutterPatch Software, and your Igor Pro 7 is the latest version available, use the SutterPatch Updater to only update the SutterPatch components.
Notes:
We do not recommended using the SutterPatch Updater to install SutterPatch Software on top of an existing standalone installation of Igor Pro 7. If you already have Igor Pro 7 on your computer, please use one of the following methods to install SutterPatch Software:
Use the Full Installer to update the existing Igor Pro 7 and install SutterPatch.
Uninstall Igor Pro 7 and install SutterPatch using the Full Installer. Remember to backup your Igor user files before uninstalling!
Create a second installation of Igor Pro 7 using the Full Installer. This should only be done in special cases and is not advised.
SutterPatch is NOT compatible with Igor Pro version 6. Igor Pro 7 64-bit is required, and comes bundled with SutterPatch Software. See the System Requirements tab for the full list of hardware and software requirements.
Igor Pro 7 and SutterPatch Software may be installed in addition to an existing Igor Pro 6 installation.
Specifications
System Requirements
Operating System:
Windows 7 or later: 64-bit versions
Mac OS X 10.11 (El Capitan) or newer
Check your Windows operating system version via the Control Panel > System settings
Check your Macintosh operating system version via the menu: Apple > About this Mac

Minimum Hardware:
Central Processing Unit (CPU): Dual-core
Random Access Memory (RAM): 3 GB
Hard Disk Free Space: 500 MB
Display Resolution: 1024 x 768 (XGA)
Computer Ports: (1) USB 2 high-speed or USB 3 port
Recommended Hardware:
Random Access Memory (RAM): 8 GB
Display Resolution: 1280 x 1024 (SXGA)
Notes:
USB 3 ports are compatible with USB 2 high-speed specifications.
Slower USB 2 'full-speed' ports, which are sometimes found on older Windows PCs or USB add-in cards, are not supported.
To check for high-speed USB 2 or USB 3 on a PC computer running Windows, look in the Control Panel > Device Manager > Universal Serial Bus controllers section for "Enhanced" host controllers. As this does not provide any mapping information to the computer's physical ports, and there can be a mix of USB port versions, you should check individual USB ports for USB 2/3 high-speed operational performance. As a visual indicator, USB 3 ports are often color coded blue.
Accessories
Citations
RelatedItems