BRIDGE8
Bridge8 Transducer Amplifier Module
---
Overview
Specifications
Accessories
Citations
Related Products
Overview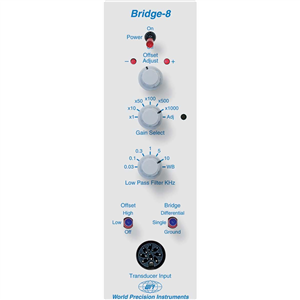 There are 1 images available to view - click to enlarge and scroll through the product gallery.
Features
Bridge8 is a modular, rack-mountable amplifier system based on a similar architecture to the popular ISO-DAM8A amplifier system. Bridge8 is specifically designed to be used as a signal conditioning amplifier with strain gauges and other powered transducers. Bridge8 includes differential amplifiers featuring high input impedance, high common mode rejection and low current leakage input terminals for low noise operation. The Bridge8 also features a half bridge switch and channel offset A wide variety of WPI transducers are available for force, temperature, pressure and light measurements. The Bridge8 amplifier is a clear choice where convenience and quality are required. Any combination of ISO-DAM8 or Bridge8 modules may be combined in the same enclosure. The ISO-DAM8A module is also available in this rack configuration.
Configuring Your ISDB System
The ISDB chassis (74030) holds up to eight modules and includes a power supply. You may include any combination of BRIDGE8 Transducer Amplifier modules or ISO-DAM8A single channel modules (74020). If you choose fewer than eight modules, you need to order the ISDB blank panels (74050) to fill the empty slots in the chassis. ISO-DAM8A bioampliers include an 8-pin DIN connector with shielded, unterminated 5' cable. Please specify line voltage when ordering.
When configuring your ISDB system:
Complete eight channel amplifier system with 74030 chassis showing eight 74020 (ISODAM8A) modules installed
*Also available for BRIDGE8 transducer amplifier modules and blank panels (74050).
*The modules are sold separately.
Specifications
| | |
| --- | --- |
| Input impedance | > 10^12 Ω |
| Amplification | 1, 10, 50, 100, 500, 1000 & Adjustable |
| Input leakage current | 0.1 pA at 25°C |
| Voltage ofset adjustment | ±50mV (low); ±100mV (high) |
| Amplifier output voltage | ±4.4V (10mA, max.) |
| Excitation Voltage | 10V (±5.0V) 100mA, max. |
| Equivalent noise signal input | 10 10 |
| Low pass filter band (KHz) | 0.03, 0.1, 0.3, 1, 5, 10, Wide Band R-C Butterworth 6 dB /octave |
| System enclosure dimensions | . 7 x 17 x 9.2 in |
| Shipping weight | 10 to 21 lb. ( 4.5 to 9.5kg ) |
Accessories
Citations
RelatedItems

TBM4M
TBM4M 4-channel transducer amplifier