AutoLCI
Automated Live Cell Imaging system with bright field and options for green or red fluorescence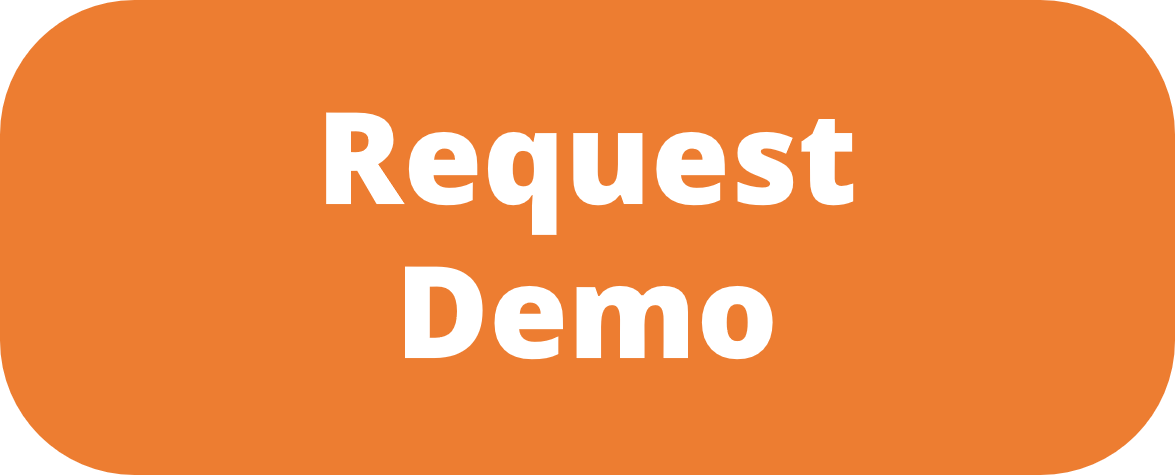 AutoLCI Brochure

AutoLCI Instruction Manual
Automated Live Cell Imaging System
AutoLCI is an automated live cell imaging system that is equipped with an advanced fluorescence and bright field microscopy, autofocusing and real time multi-position imaging technology for a well plate, dish or T-flask.
The streamlined process provides an easy workflow solution giving you a full set of tools you need to acquire the best quality images and accurate research results.
The compact nature of the AutoLCI allows positioning in an incubator providing improved cell viability as there is less disturbances over the course of your experiment reducing chances of cellular abnormality.
The AutoLCI live cell imaging system includes two software packages
AutoLCI Scan to control the actual operation of AutoLCI device which includes real-time cell monitoring and time-lapse imaging functions
AutoLCI Analysis for analyzing and post-processing the images. This comes with an unlimited software usage license, ideal for allowing multiple users to work with the unit without additional fees
Expand Your Cell Discoveries with Automated Live Cell Imaging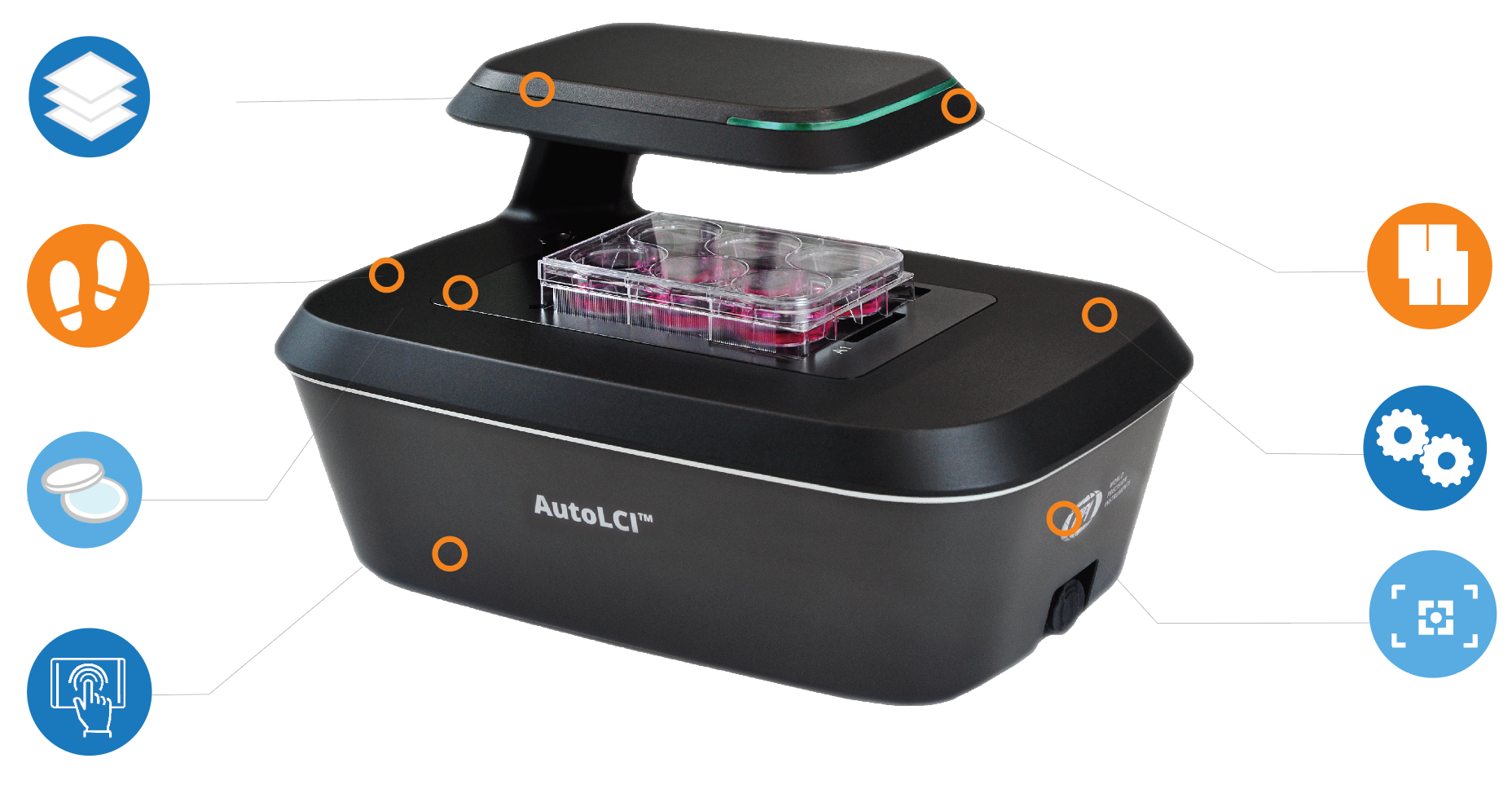 Compact size
AutoLCI is a live cell imaging system that easily fits into a standard CO2 incubator

Multi-position imaging
Fully-automated, multi-position imaging for high resolution analysis with a motorized camera that allows for multi-point imaging up to 96 wells.

Autofocusing
Increased focus speed and reproducibility with reliable autofocusing function

High compatibility
Compatible with various cell culture vessel types. Well plate (6, 12, 24, 48, 96 wells), Dish (35 mm, 60 mm, 90 mm), and T-flask (25 cm2 , 75cm2) may be selected.

Intuitive interface
With user-friendly functions, the easy-to-use analysis tools such as confluency mark, growth curve and a ruler are build into the included software.

Z-stacking imaging
Capture multiple focal planes and use the Z-stacking function to view high dynamic range (HDR) images.

Image stitching
Stitching combines images for analysis of a single high resolution composite image. This enables analysis of a larger volume and sections.
Unique Benefits of AutoLCI
Stable Stage – Get clearer images with a stable plate. Unlike other devices, AutoLCI has a fixed stage and the optics move.
Open-Source Data – Unlike other brands, AutoLCI gives you the raw images so that you can work with any analysis software you prefer, like Image J.
Regular Software Updates – Stay current with all the new functions of the AutoLCI software. Customers are lifetime members and are never charged for the software updates.
Unlimited Software Usage License – Multiple users may analyze images using their own computers (after the scanning is complete) without additional fees. Other brands limit usage to one computer.
Options
| Order code | Description |
| --- | --- |
| AUTOLCI-BF4 | AutoLCI, Brightfield, 4X Magnification |
| AUTOLCI-BF10 | AutoLCI, Brightfield, 10X Magnification |
| AUTOLCI-BFGF4 | AutoLCI, Brightfield, 4X Magnification, with Green Fluorescence |
| AUTOLCI-BFGF10 | AutoLCI, Brightfield, 10X Magnification, with Green Fluorescence |
| AUTOLCI-BFRF4 | AutoLCI, Brightfield, 4X Magnification, with Red Fluorescence |
| AUTOLCI-BFRF10 | AutoLCI, Brightfield, 10X Magnification, with Red Fluorescence |
Features
Multipoint imaging

The optics system travels 117mm x 77mm, x and y axis respectively, multiple points within the travel range can be captured following the schedule (intervals, cycles, total time) set by the researcher.
Different kinds of vessels can be used (Well plates, dishes, flasks, slides)

Field of view:

- 4X: 1.345 x 1.017mm

- 10X: 0.574 x 0.43mm

Stable imaging performance

AutoLCI doesn't have a moveable stage but instead, the camera located inside the system moves to capture the images of cell in multiple positions
Precise and sensitive fluorescence detection is possible with the integrated hard-coated optical set and LED filter with more than 50,000-hour lifetime.

Compact size

AutoLCI is compact in size with 226(h) x 358(l) x 215(w) mm where several AutoLCI systems can fit into a standard CO2 incubator.
Maintaining the performance of a device working in a hot and humid environment is very challenging. With AutoLCI, you can easily monitor live cells inside the incubator for a long time without disturbing the environment suitable for cell culture.
Scanning Application
The scanning application is used for capturing images. You can preview cells, schedule image capture, adjust light and contrast, and monitor time lapse progression from one intuitive screen. It includes auto-focusing technology that finds a clear focal plane of cells and has excellent repeatability.
Z-Stacking
With the Z-stacking function, where images of multiple planes of focus are merged, spheroid cells can be clearly observed under time-lapse imaging.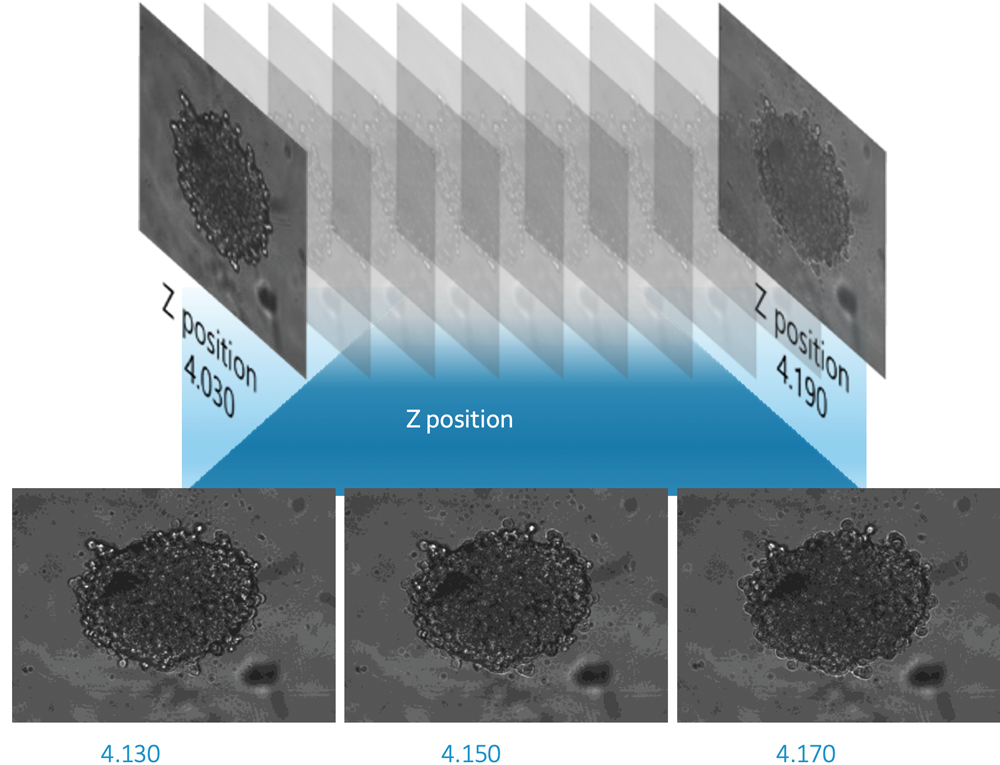 Image Stitching
Image stitching lets you capturing multiple images and combine the overlapping parts to enable high-resolution mapping of a large sample area.

Time Lapse Imaging
The AutoLCI Scan app gives you an intuitive interface for scheduling your time-lapse images. You can set the total time, cycle and intervals for the time lapse images of your live cell imaging setup.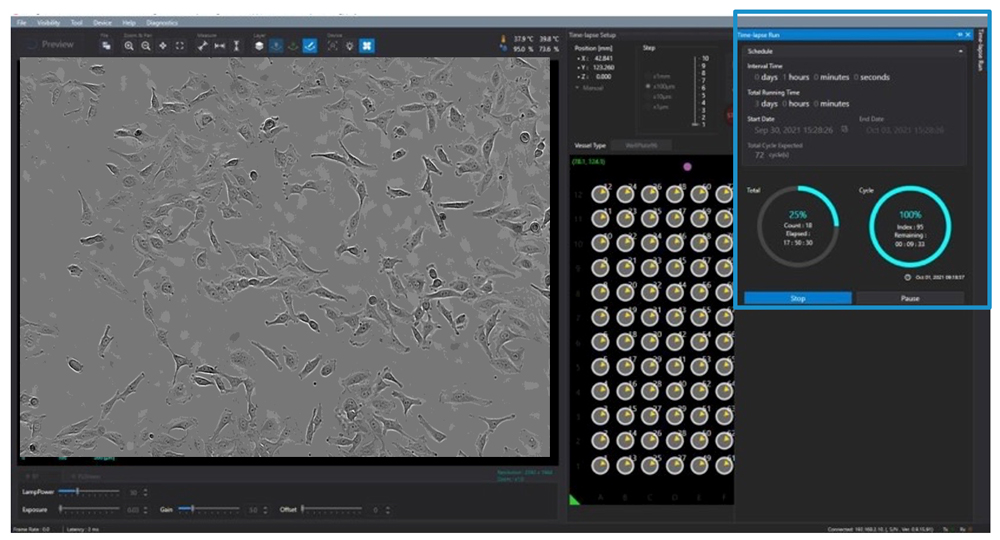 Analysis Application
Auto LCI Analysis has a variety of tools in the analysis application simplify the analytic process, reducing errors and saving time.
Intensity Histograms
Confluency Graphs
Channel Merge
Video Creation
Time Lapse Imaging
Manual Counting
Measurement
Z-Stacking Image
More

---
---