STX3
Chopstick Electrode Set for EVOM2
---
Overview
Specifications
Accessories
Citations
Related Products
Overview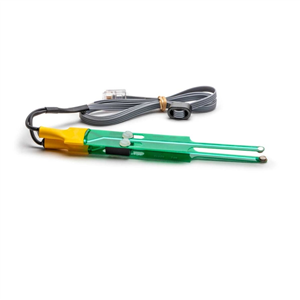 There are 1 images available to view - click to enlarge and scroll through the product gallery.
Adjustable width double electrodes
1mm thick
Use in cell culture wells
Manual electrodes
The STX3 consists of a pair of adjustable width double electrodes 1 mm thick. Each stick of the electrode pair contains a silver/silver-chloride pellet for measuring voltage and a silver electrode for passing current. The small size of each electrode is designed to facilitate placement of the electrodes into cell culture wells. STX3 can be used with all tissue culture inserts currently on the market. For more accurate quantitative measurements and/or for lower resistance measurements (e.g., endothelial tissue cultures) the EVOM2 can be used in conjunction with the optional Endohm chambers.
Sterilization
STX3 can be sterilized with EtO, alcohol or a bactericide
Specifications
Accessories
Citations
RelatedItems