MCT6-200
Uniaxial MechanoCulture T6
---
Overview
Specifications
Accessories
Citations
Related Products
Overview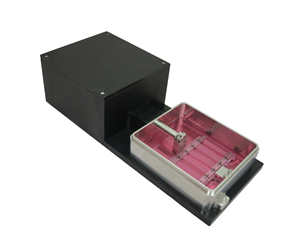 There are 1 images available to view - click to enlarge and scroll through the product gallery.
The MechanoCulture product group is used for culturing cells in a mechanically active environment. These culture systems contain configurations to support single or multiple parallel tests using a variety of flexible membranes and scaffolds. The on-board controllers enable PC independent execution of user-defined motion protocols. All MechanoCulture systems can be operated in an incubator environment and all cell contacting components are made from autoclavable materials.
The MechanoCulture T6 can uniaxially stretch up to 6 clamp-mounted specimens from 5-80mm in length. For stimulation in tendon, ligament, and bone tissue engineering work, it can deliver up to 250N of thrust. For cardiovascular research, the system can stimulate at up to 5Hz.
All components in contact with the culture can be autoclaved and the device can be run inside an incubator environment. Stainless steel grips secure the specimens at each end. The spacing and geometry of these grips can be customized to suit a variety of specimen sizes and materials.

The MechanoCulture T6 can be programmed to run constant velocity or sinusoidal stretch patterns. Magnitudes, frequencies, rest periods, and cycle counts can all be specified in the software application and programmed to the device.
Specifications
Accessories
RelatedItems
MCFX-400
MechanoCulture FX , 24-well cell culture bioreactor with unaxial stretching and real-ti...

MCB1-200
MechanoCulture B1 - Biaxial stimulation of a cells in a monolayer or 3D matrix