IX-214
Data Recorder
---
Overview
Specifications
Accessories
Citations
Related Products
Overview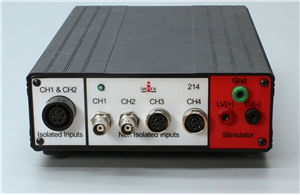 There are 1 images available to view - click to enlarge and scroll through the product gallery.
Key Hardware Features
All hardware components carry a three-year unconditional warranty.
Stimulator is built-in to the recording unit.
Intelligent inputs adjust transducer gain automatically.
Software is upgradeable free-of-charge over the web.
Sampling speeds of 1 to 100 kHz continuous and 1 to 100 kHz snapshot.
Electronic design meets or exceeds UL safety standards for lab use and is CE certified.
This rugged, reliable, four-channel data recording unit is engineered to take years of classroom use and abuse. The device enclosure is constructed from extruded aluminum, with a minimum of student-accessible controls and adjustments. For most applications, setup is automatic and transparent to the user. With one mouse click, the unit can be configured for EEG, EMG (EOG) or ECG.

The IX-214 includes a dual-channel biopotential amplifier designed for use on human subjects. Two additional channels accept practically any sensor you are likely to encounter, as well as voltage output of pH meters, spectrophotometers and other laboratory devices.
The iWorx 214 also includes a fully functional built-in stimulator useful for a variety of human and animal labs. The recorder interfaces to the PC via the USB bus, which provides aggregate sampling at 100 kHz continuous, more than fast enough for just about any teaching experiment.
System Requirements
The IX-214 will operate on Windows or Macintosh computers. Windows computers must have at a minimum a Pentium II or Celeron level 500mHz computer running Windows ME, 2000, XP, Vista, Or WIN7 with 512 MB of memory. Macintosh computers must be running OSX 10.4 with an Intel Processor.
Specifications
iWorx 214 Specifications
| | |
| --- | --- |
| Analog Inputs | 2 isolated differential biopotential and 2 single-ended/differential transducers |
| Biopotential Amplifier | Safe for use on human subjects; includes optically isolated input and AAMI input Cable |
| Input Impedance | 10 Gigohms |
| Amplifier Frequency Response | 2 KHz |
| ADC Resolution | 16 Bit |
| Sampling Rate | 100,000 samples/second aggregate |
| Continuous Input Range | +5 V |
| System Noise | 5 LSB ( |
| Excitation Voltage | +5 mV differential input only |
| Analog Output | 1 (differential) |
| Output Range | +5 V, 100 V with optional SM-100 |
| Output Current | 45 mA |
| Output Resolution | 12 Bit |
| Trigger | 1 (TTL) |
| Warranty and Upgrades | The iWorx 214 hardware is protected with a three year warranty. Software upgrades are free, and are automatically delivered to registered users via the Web. LabScribe software may be freely distributed. |
Accessories
Citations
Chang, P., Chen, L., & Cheng, J. (2014). Role of peroxisome proliferator-activated receptors δ (PPARδ) in rats showing endotoxemic heart failure. Journal of Applied Biomedicine. Retrieved from https://www.sciencedirect.com/science/article/pii/S1214021X13000033
Chen, L., Cheng, M., Ku, P., & Lin, J. (2014). Rosiglitazone increases cerebral klotho expression to reverse baroreflex in type 1-like diabetic rats. BioMed Research International. Retrieved from https://www.hindawi.com/journals/bmri/aip/309151/
Chen, M., Tsai, J., Chen, L., & Wu, T. (2014). Antihypertensive action of allantoin in animals. BioMed Research …. Retrieved from https://www.hindawi.com/journals/bmri/2014/690135/abs/
Chien, C., Chien, C., & Wang, S. (2014). Progressive thermopreconditioning attenuates rat cardiac ischemia/reperfusion injury by mitochondria-mediated antioxidant and antiapoptotic mechanisms. The Journal of Thoracic and …. Retrieved from https://www.sciencedirect.com/science/article/pii/S0022522314000427
Hsu, Y., Chang, C., & Chen, C. (2014). Negative cerebral blood volume fMRI response coupled with Ca 2+-dependent brain activity in a dopaminergic road map of nociception. NeuroImage. Retrieved from https://www.sciencedirect.com/science/article/pii/S1053811913012470
Lin, J., Cherng, Y., & Chen, L. (2014). Ginseng is useful to enhance cardiac contractility in animals. BioMed Research …. Retrieved from https://www.hindawi.com/journals/bmri/aip/723084/
Masuda, K., Iwakoshi-Ukena, E., & Bessho, Y. (2014). Identification of Neurotensin and LANT-6 and Localization of mRNA Encoding Their Precursor in the Chicken Brain. Zoological Science. Retrieved from https://www.bioone.org/doi/abs/10.2108/zs140010
Noseworthy, T. (2014). The Role of Arousal in Congruity-Based Product Evaluation. Journal of Consumer …. Retrieved from https://jcr.oxfordjournals.org/content/41/4/1108.abstract
Tsai, C., Chan, P., Chen, L., & Chang, C. (2014). Merit of ginseng in the treatment of heart failure in type 1-like diabetic rats. BioMed Research …. Retrieved from https://www.hindawi.com/journals/bmri/aip/484161/
RelatedItems

LAB-TRAX-4
4-Channel Data Acquisition