MK-xxxBM-6
Bench Top Vibration Isolation Platform
---
Overview
Specifications
Accessories
Citations
Related Products
Overview
There are 1 images available to view - click to enlarge and scroll through the product gallery.


The BM-6 bench top platform offers better performance than a full size air table in a package only 4.6 inches tall, and without air!
This vibration isolation platform reaches a new price point and is extremely easy to use. It offers a 1.5 Hz horizontal natural frequency and a 2.5 Hz vertical natural frequency. There is only one adjustment. There is no need for air or electricity.
This is the thinnest, most portable, and most user-friendly isolator ever offered at this level of performance per dollar.
The curves below demonstrate the better-than-air performance that the BM-6 delivers. Vertically, the BM-6 offers a resonant frequency that is comparable to or better than most air tables. Horizontally, the BM-6 offers much better performance than typical air tables, which can have horizontal frequencies as high as 4-5 Hz.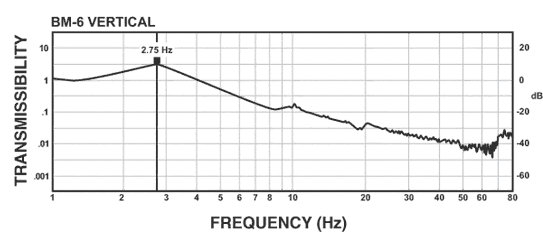 Specifications
Weight: Approximately 35 lb. (16 kg)

Dimensions: 18" W x 20" D x 4.6" H (457mm W x 508mm D x 117mm H)

Approximate payload weight range:
Model
Payload Range
Price
25BM-6
10 - 30 lb (4.5 - 14 kg)
POA
50BM-6
25 - 55 lb (11 - 25 kg)
POA
100BM-6
50 - 105 lb (23 - 48 kg)
POA
Performance

Vertical and horizontal frequencies are weight dependent.

The vertical frequency of 2.5 Hz and horizontal frequency of 1.5 Hz are achieved at the upper limit of the payload range.

At the lower limits of the payload range, the vertical frequency is approximately 3.4 Hz and the horizontal frequency is approximately 2.5 Hz.

Simple Set-Up and Adjustment
Accessories
Citations
RelatedItems
MK-xxxBM-8
Bench Top Vibration Isolation Platform