MK-xxxBM-8
Bench Top Vibration Isolation Platform
---
Overview
Specifications
Accessories
Citations
Related Products
Overview
There are 1 images available to view - click to enlarge and scroll through the product gallery.


The BM-8 bench top platform offers 10-100 times better performance than a full size air table in a package only 4.6 inches tall, and without air or electricity.
This vibration isolation platform is extremely easy to use and offers extreme performance. It offers a 1.5 Hz horizontal natural frequency and a 0.5 Hz vertical natural frequency. There are only two adjustments.
This is the thinnest, most portable, and most user-friendly isolator ever offered that is capable of delivering this level of performance.
The vertical curve below demonstrates the vertical 1/2 Hz performance of the BM-8. The BM-8 delivers the high performance of our larger isolators in a package only 4.6 inches tall. Horizontally, the BM-8 offers natural frequencies as low as 1.5 Hz, much better than typical air tables.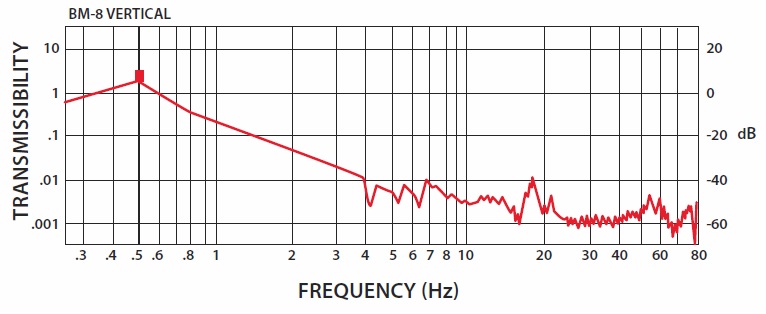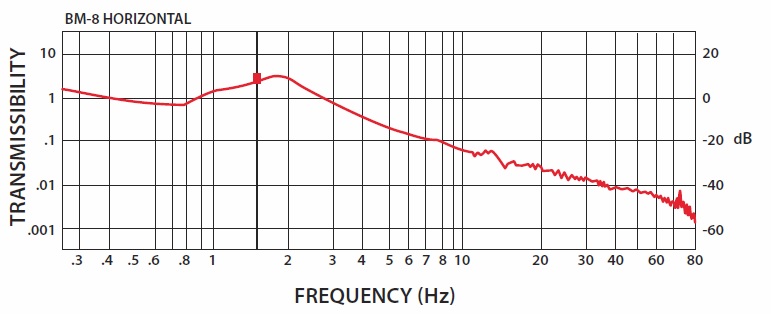 Specifications
Weight: Approximately 40 lb. (16 kg)
Dimensions: 18" W x 20" D x 4.6" H
(457mm W x 508mm D x 117mm H)
Approximate payload weight range:
Model
Payload Range
Price
25BM-8
10 - 30 lb (4.5 - 14 kg)
POA
50BM-8
25 - 55 lb (11 - 25 kg)
POA
100BM-8
50 - 105 lb (23 - 48 kg)
POA
125BM-8
90 - 130 lb (40 - 59 kg)
POA
150BM-8
125 - 155 lb (57 - 70 kg)
POA
175BM-8
150 - 180 lb (68 - 81.5 kg)
POA
200BM-8
175 - 205 lb (79.5 - 93 kg)
POA
225BM-8
200 - 230 lb (90.5 - 104 kg)
POA
250BM-8
225 - 255 lb (102 - 115.5 kg)
POA
Performance

Horizontal frequencies are weight dependent.
Horizontal frequency of 1.5 Hz is achieved at or near the upper limit of the payload range.
At the lower limits of the payload range, the horizontal frequency is approximately 2.5 Hz.
Vertical frequency is tunable to 0.5 Hz throughout the payload range,

Simple Set-Up and Adjustment
Accessories
Citations
RelatedItems
MK-xxxBM-6
Bench Top Vibration Isolation Platform