AL-1050
Aladdin SyringeONE:80 High Flow Programmable Syringe Pump
---
Overview
Specifications
Accessories
Citations
Related Products
Overview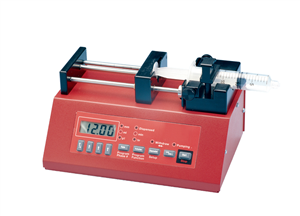 There are 1 images available to view - click to enlarge and scroll through the product gallery.
Automatic dispensing of small volumes

Very precise, reproducible flow rate control

Displays total volume dispensed in mL or µL units

Selectable infusion/withdrawal rate units (mL/hr, µL/hr, mL/min, µL/min)

Infusion rate can be changed while pumping

Program pump via keypad or from a computer

Highly controllable – program sequences without a computer (holds up to 41 programming phases)

Network, control, and monitor up to 100 pumps with one computer

Hands-free operation with optional foot switch ADPT2

Motor stall detection
| | |
| --- | --- |
| Channels | 1 |
| Type | Infusion / Withdrawal |
| Flow Range | 0.004 µL/hr (0.5 mL syringe) to 907 mL/min (140 mL syringe) |
| Dispensing Accuracy | ±1% |
| Syringe Sizes Accepted | 0.5 µL to 60 mL or 140 mL partially filled |
| Linear Force | 20 lb at low speed; 10 lb at maximum speed |
To meet the demands of a busy lab Aladdin Pumps offer exceptional value providing versatility and reliability for accurately dispensing media down into the nanoliter range.
The Aladdin AL-1050 is a programmable single channel infusion / withdrawal syringe pump. It has a metal casing to provide stability, ensuring less vibration is transferred to the syringes. Setup is easy using the pumps keypad or via a computer with optional PC to pump cable (GN-PC7 or GN-PC25).
The Aladdin AL-1050 can run complex programs with up to 41 pumping phases can be set to change pumping rates; set dispensing volumes; insert pauses; control and respond to external signals; sound the buzzer. (For Linear/Gradient programs use AL-1050X)
Example flow rates
| | | |
| --- | --- | --- |
| Syringe Size | Maximum Rate | Minimum Rate |
| 0.5 µL | 4434 µL/hr | 0.004 µL/hr |
| 1 mL | 13.87 mL/min | 6.35 µL/hr |
| 3 mL | 46.3 mL/min | 21.2 µL/hr |
| 5 mL | 90.31 mL/min | 41.35 µL/hr |
| 10 mL | 1308.8 mL/min | 59.89 µL/hr |
| 20 mL | 227.9 mL/min | 104.4 µL/hr |
| 30 mL | 292.8 mL/min | 134.1 µL/hr |
| 60 mL | 444.1 mL/min | 203.4 µL/hr |
| 140 mL | 907.1 mL/min | 415.0 µL/hr |
Specifications
| | |
| --- | --- |
| SYRINGE SIZES | up to 60 mL (140 mL partially filled) |
| NUMBER OF SYRINGES | 1 |
| MOTOR TYPE | Step Motor, 1/8 to 1/2 step modes |
| STEPS PER REVOLUTIONS | 200 |
| STEPPING (max. min.) | 1.8520833 µm to 7.4083333 µm depending on motor speed |
| MOTOR TO DRIVE SCREW RATIO | 28/15 |
| SPEED(max./min.) | 80.01 cm/min / 0.0366 cm/hr |
| PUMPING RATES | 444.1 mL/min with 60mL syringe, to 6.35 µL/hr with 1mL syringe |
| MAXIMUM FORCE | 20 lb at min. speed, 10 lb at max. speed |
| NUMBER OF PROGRAM PHASES | 41 |
| RS-232 PUMP NETWORK | 100 pumps maximum |
| POWER SUPPLY | Wall adapter 12V DC @ 1000mA |
| DIMENSIONS | 22.9 x 14.6 x 11.4 cm (8.75 x 5.75 x 4.5 in.) |
| WEIGHT | 1.6 kg (3.6 lb) |
Accessories
Citations
Birngruber, T., & Ghosh, A. (2013). Cerebral open flow microperfusion: A new in vivo technique for continuous measurement of substance transport across the intact blood–brain barrier. Clinical and …. Retrieved from https://onlinelibrary.wiley.com/doi/10.1111/1440-1681.12174/full
Ferreira, D., Reis, R., & Azevedo, H. (2013). Peptide-based microcapsules obtained by self-assembly and microfluidics as controlled environments for cell culture. Soft Matter. Retrieved from https://pubs.rsc.org/EN/content/articlehtml/2013/sm/c3sm51189h
Herricks, T., Avril, M., Janes, J., Smith, J., & Rathod, P. (2013). Clonal Variants of Plasmodium falciparum Exhibit a Narrow Range of Rolling Velocities to Host Receptor CD36 under Dynamic Flow Conditions. Eukaryotic cell. Retrieved from https://ec.asm.org/content/12/11/1490.short
Maya, H., Vincent, M., & Nötzli, S. (2013). Increased porosity of electrospun hybrid scaffolds improved bladder tissue regeneration. … Research Part A. Retrieved from https://onlinelibrary.wiley.com/doi/10.1002/jbm.a.34889/full
Tõnurist, K., Thomberg, T., & Jänes, A. (2013). Polymorphic Behavior and Morphology of Electrospun Poly (Vinylidene Fluoride) Separator Materials for Non-Aqueous Electrolyte Based Electric Double Layer. ECS …. Retrieved from https://ecst.ecsdl.org/content/50/45/49.short
Tõnurist, K., Thomberg, T., Jänes, A., & Lust, E. (2013). Specific Performance of Electrical Double–Layer Capacitors Based on Different Separator Materials and Non–Aqueous Electrolytes. ECS Transactions. Retrieved from https://ecst.ecsdl.org/content/50/43/181.short
Zander, N., & Orlicki, J. (2013). Electrospun polycaprolactone scaffolds with tailored porosity using two approaches for enhanced cellular infiltration. Journal of Materials …. Retrieved from https://link.springer.com/article/10.1007/s10856-012-4771-7
Zhang, J., Jiang, D., & Peng, H. (2014). A pressurized filtration technique for fabricating carbon nanotube buckypaper: Structure, mechanical and conductive properties. Microporous and Mesoporous Materials. Retrieved from https://www.sciencedirect.com/science/article/pii/S1387181113005192
Zhang, J., Jiang, D., Peng, H., & Qin, F. (2013). Enhanced mechanical and electrical properties of carbon nanotube buckypaper by in situ cross-linking. Carbon. Retrieved from https://www.sciencedirect.com/science/article/pii/S000862231300568X
RelatedItems

SPLG100
Legato 100 Single Syringe Infuse Only