ExiGo Microfluidic Syringe Pump
ExiGo Pump series is a microfluidic syringe pump controlled by SmartFlo software that can be run from an iPad or PC. Connect up to 4 ExiGo pumps together with independent programming of each pump's flow profile.
---

Overview
ExiGo pump is a microfluidic syringe pump controlled by an iPad mini or PC via SmartFlo software. Suitable for numerous microfluidic applications, precise multichannel mixing, electrophysiology, single cell analysis, analytical biochemistry and RNA/DNA analysis. Key features of the ExiGo are:
PULSE-FREE down to nL/min with flow sensor
PROGRAMMABLE flow profiles with any combination of constant, ramp, sine and step
EASY INTEGRATION with your own software, including LabVIEW, C++ and Python
FAST SWITCHING: Response times as low as 50ms, significantly faster than standard syringe pumps
FLOW RATES: 10nL/min - 13mL/min with an accuracy of ±0.5%
STANDARD SYRINGES: 100µL - 5mL and automatic refill with ExiGo Manifold accessory
CLOSED-LOOP FEEDBACK: Flow sensors provide active feedback and precise flow control
MODULAR: up to 4 ExiGo pumps connected together with independent programming of each pump's flow profile. Or you can mix-and-match with UniGo pressure pumps
An ExiGo Syringe Pump setup will look like this: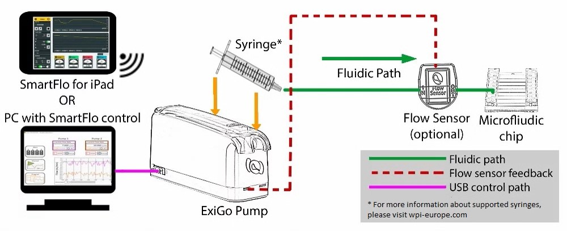 To select the ExiGo pump configuration you need use the selection chart below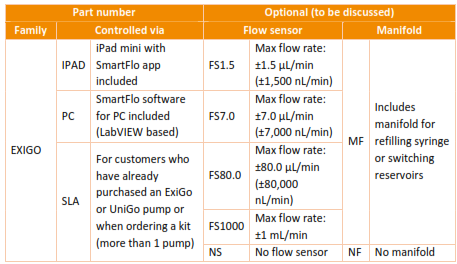 Choose whether you want to control the ExiGo via an Ipad, PC or for adding an additional ExiGo where you already have the software select additional model (SLA)
Select the optional flow sensor or use NS if you do not need one. The ExiGo flow sensor is plug-and-play and enables real time flow rate measurement. Once installed it will activate the PID control software options to improve the accuracy and dynamic response of the ExiGo pump.
Select if you want an option manifold for refilling the syringe or switching reservoirs. If not select NF to indicate no manifold is supplied with the setup. The ExiGo Manifold is a specialised microfluidic channel selector that allows the ExiGo pump to direct fluid to one of three microfluidic channels at at time. This can be used where you require

Automatic refilling of the syringe
Asynchronous injection of a reagent in multiple channels
Continuous perfusion over long periods of time

All systems come with a tubing kit and power cables
Technical Specifications
Dynamic Response
50 ms max(1)
Volumetric Flow Rates
10 nL/min to 13 mL/min
Flow Direction
Bidirectional (Push / Pull)
Pulse-free flow rate for microfluidic applications

10nL/min - 1mL/min (± 20nL/min)(2)

100nL/min - 13mL/min (± 40nL/min)(3)

Flow rate stability
± 0.25% FS (4)
Maximum Working Pressure
2 bar / 30 psi
Compatible Syringes
0.5 μL - 1 μL (glass syringes) 1 mL - 5 mL (plastic syringes)
External Trigger
2 inputs and 2 outputs of external trigger for operation with external units and software
Flow control
Reversible flow direction - Push/Pull Programmable perfusion mode: constant, ramp, step, sine
Dimensions
225 mm (L) x 69 mm (W) x 122 mm (H)
Weight of pump
1.3 Kg
Power Requirement
110/220V - 50/60Hz | 60W
(1) Recorded for a set point change from 0 to 10 µL/min using a flow sensor with active feedback. Fluidic resistance dependent.
(2) Using a 250 µL glass syringe.
(3) Using a 5 mL plastic syringe.
(4) Measured using a 250 µL glass syringe and a 7 µL /min flow sensor (FS7.0).
Applications
Thrombosis / Platelet Adhesion and Aggregation shear flow experiments
Shear based cell rolling, adhesion and transmigration assays on ligand-coated surface or on endothelial cells
Cell and particle manipulation
Precise multichannel mixing, laminar and multilaminar flow studies
Droplet Generation and Manipulation
Hydrodynamic flow focusing
ExiGo Pump Videos
---