Kima Pump
Kima pump is a microfluidic recirculating pump designed to aid cell culture (e.g. endothelial cells) under physiological conditions (shear flow) in various biochips and flow chambers.
---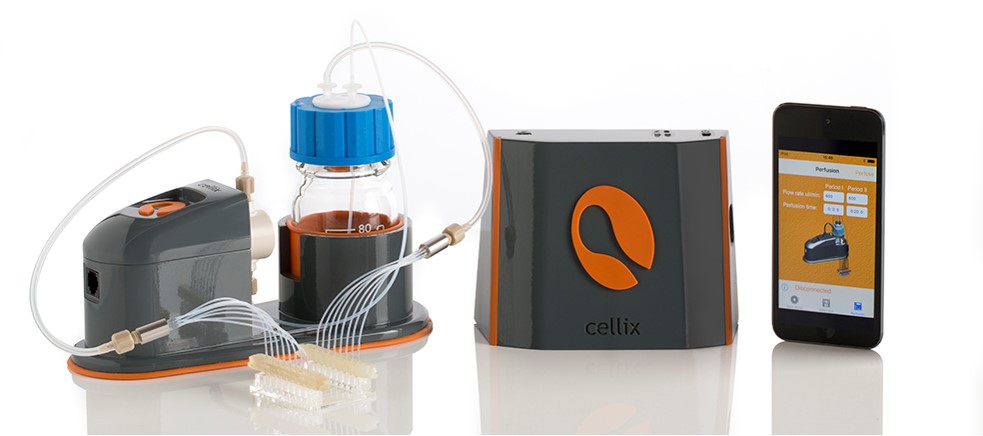 Kima pump is a microfluidic recirculating pump controlled by an iPod Touch or PC. Suitable for continuous microbe and cell culture under shear flow mimicking physiological flow in the
human vasculature. Applications include biofilm studies, cell culture in biochips with adherent cells (HUVECs), stem cells, HepG2 cells.
The Kima pump is controlled by the iKima application for use with the iPod touch and iPhone. The Kima pump can be placed inside a standard incubator while the iPod touch or iPhone, as it's controller, sits outside the incubator. The Kima pump connects easily to
Cellix's Vena8 Endothelial+ biochip and other manufacturer's flow chambers via fully autoclavable tubing and delivers pulses of fresh media to cells seeded inside the microchannels of the biochip. The iKima app is available for download from Apple's iTunes
store.
The Kima pump when used with the Vena8 Endothelial+ biochip offers 8 parallel microchannels and with additional Kima pumps the Kima controller can control and run up to 32 microchannels.
CELL CULTURE UNDER FLOW: simple culture of endothelial cell monolayers under physiological conditions (shear stress) in flow chambers and 8 cell monoalyers in Vena8 Endothelial+ biochips within 24-48 hours
RECIRCULATING CULTURE MEDIA: saves reagents and no additional fluidic valves required
INCUBATOR SAFE: Fits inside all standard CO2 incubators. No additional temperature or humidity control required
PULSATILE: apply continuous or periodic pulsing flow to cell monolayers in culture
PROGRAMMABLE with iPod Touch
EASY TO USE: control up to 4 pumps with the same controller and iPod Touch
A Kima pump setup will look like this:

Technical Specifications
Pumping Modes
2 modes of pumping: wash and perfusion
Dead Volume
< 300 μL
Flow Rate
Perfusion mode: 15 - 35 mL/hr (*) +/- 4%
Shear Stress Range
Perfusion mode: ~2.5 to ~6.5 dyne/cm2 (**)
Flow Direction
Dispense only
Pump Running Conditions

Temperature 10°C–60°C

Humidity <98% RH

Controller
4 sockets enabling up to 4 Kima pumps to be run independently
Controller Communication
Wi-Fi or USB
Software Control
iKima App running on iPod touch / iPhone
Dimensions of pump
190 mm (L) x 85 mm (W) x 90 mm (H)
Weight

Pump: 0.8 Kg (excludes bottle and tubing weight)

Controller: 0.55 Kg

Power Requirement

Input: 110/220V - 50/60Hz

Output: 12VDC 3.33A max
(*): calibrated test made with a specific flow resistance of 150µm inner diameter by 5cm length
(**): shear stress is for information only; based on the connection to 8 channels of a Vena8 Endothelial+ biochip (capillary of 800µm x 120µm)
Please Note: the Kima pump is not suitable for shear stressed based assays because the pump delivers liquid in pulses (not continuous flow).
Applications
Cell culture of endothelial cell monolayers for shear flow experiments
Cell-cell adhesion shear flow assays on endothelial cell monolayers with Cellix's Mirus Evo Nanopump or ExiGo pump for studies such as:

Cardiovascular / Atherosclerosis: primary monocyte adhesion to coronary artery endothelial cells
Inflammation: THP-1 monocyte adhesion to HUVECs under flow
Asthma / COPD: eosinophil adhesion studies to human lung microvascular endothelial cells (HMVEC-L)
Oncology - Breast Cancer: MDA cells adhering to TNF-alpha stimulated HUVECs under shear flow
Kima Pump Videos
---
KIMA-PRO-IPOD
1 x Kima pump; 1 x iPod Touch with iKima app; 1 x iPod (controller); 1 x tubing kit; 1 x 100 mL bottle with GL45 cap; power supply and cables; Velcro strips to secure iPod dock to CO2 incubator

KIMA-PRO-PC
1 x Kima pump; 1 x iPod Touch with iKima app; 1 x iPod (controller); 1 x tubing kit; 1 x 100 mL bottle with GL45 cap; power supply and cables; Velcro strips to secure iPod dock to CO2 incubator