PZMIII-MI
Stereo Microscope with LED Illuminated Base and Articulating Mirror
---
Overview
Citations
Specifications
Models
Related Products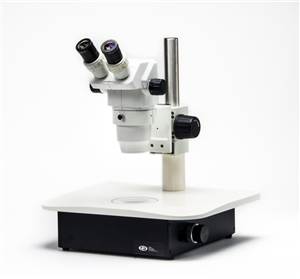 There are 1 images available to view - click to enlarge and scroll through the product gallery.
Perfect microscope for microinjection applications
Illuminated base
Articulating mirror
PZMIII-MI Microscope with Illuminated Base and Articulating Mirror is perfect for microinjection and transfection. It includes our standard stereo microscope head mounted on a research grade Brightfield/Darkfield pole type stand. It has a large stable work surface and a rotatable lens/mirror system which provides transmitted LED intensity illumination.

The sliding mirror is gimbaled, allowing for a full range of movement front to back, as well as rotation. The mirror rotates 360 on one axis and can slide for further lighting effect directionally, front to back. A knob on the right of the base adjusts the mirror and a locking ring holds the desired mirror position.

The articulating mirror lets you vary the microscope illumination from Brightfield LED to Darkfield LED at an appropriate angle. It is an effective tool for viewing live bacteria. At low magnifications, view tissues, cells or embryo transfer where oblique transmitted illumination is critical.

The scope mounting pole diameter is 32mm.

This platform includes the PZMIII microscope, a focus mount, two stage clips, 94.5mm glass stage plate and an automatic voltage sensing power supply and a 20mm vertical post.

The base may be fitted to other microscope heads.
Microscope Options
This unit is sold with our standard PZMIII binocular stereo microscope head. Other options are available. Speak with a specialist today to configure a microscope for your needs.
If you want to add a camera or connect with a video monitor, select a PZMTIII trinocular head for you lighted microscope base.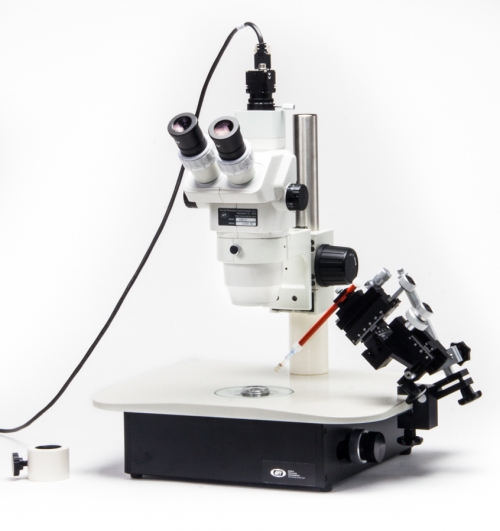 This trinocular microscope head has a camera attached. It also shows an M3301 mounted to the base using a M4C coupler for microinjection studies. A setup like this facilitates classroom or collaborative environments so everyone can see on the remote screen what the researcher is viewing through the microscope.
This will be the feed from an external API...
| | |
| --- | --- |
| Dimensions | 330mm (13") wide by 280mm (11") length by 85mm (3.37") high |
| Pillar Height | 5.7" height -20mm pillar |
| Glass Stage Plate | 94.5mm Round |
| Stage Clips | 75mm clip length, 4mm pin, paired |
| Illumination Port | Built in incident and transmitted variable intensity LED illumination |
| Rotatable Mirror | Dual-reflection lens/mirror system provides transmitted brightfield/ pseudo-darkfield illumination |
| Manufacturer | MADE IN JAPAN |
| Warranty | LIMITED LIFETIME WARRANTY |
| CE | Yes |
| Package Information | 10 lbs; 17 x 14 x 9 inches |