KWIK-SIL
Low toxicity adhesives for live tissues
---
Overview
Specifications
Accessories
Citations
Related Products
Overview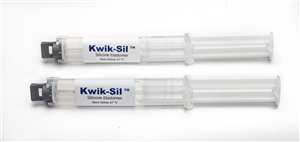 There are 1 images available to view - click to enlarge and scroll through the product gallery.
Live tissue and nerve studies
Medium strength adhesion
Details
The properties of this adhesive make it exceptionally useful for neuroscience applications, peripheral nerve studies and similar biomedical applications. These new silicone elastomers also eliminate the mess and time involved in pre-mixing other commonly used formulations (such as Wacker SilGel® and Sylgard®). Each silicone elastomer is packaged in a double barrel syringe and is automatically mixed when pressed out of the mixer tip provided. It can then be applied directly to the tissue without further mixing. The curing time of these silicones is short, reliable and reproducible thus eliminating potential costly guesswork when using other tissue adhesives. Furthermore, the curing process does not produce heat, which can otherwise cause tissue damage. WPI™s silicone elastomers are much less toxic than dental silicone because they contain no surfactant additives.
Toxicity
WPI's silicone elastomers are based on recently developed vinyl terminated siloxane and platinum complex catalysts. They exhibit exceptional low toxicity before, during and after curing. The traditional RTV silicone systems produce either acetic acid or alcohol during condensation; these compounds are toxic to living cells. In contrast, the only by-product of condensation from WPI™s elastomers is a small amount of hydrogen gas, which was shown not to cause any effect on nerve activity in highly sensitive peripheral nerves. Both elastomers cure on contact with the tissue. Currently, WPI provides rapid-curing silicone elastomers in two different formulas:Kwik-Sil is a translucent silicone elastomer adhesive with medium viscosity. It has good adhesion and mechanical property (tear strength and elongation). The very short curing time (approx. 1 minute) make it especially useful for moving preparations.
Specifications
Accessories
Citations
M. Barann, J.P. Dilger H. Bonisch, M. Gothert, A. Dybek, B.W. Urban "Inhibition of 5-HT3 receptors by propofol: equilibrium and kinetic measurements" Neuropharmacology. 2000: 39, 1064-1074.
S.C. Cannon, D. P. Corey "Loss of Na+ Channel Inactivation By Anemone Toxin (AT II) Mimics the Myotonic State in Hyperkalaemic Periodic Paraylsis" Journal of Physiology. 1993: 466, 501-520.
P. Mire, J. Nasse, S. Venable-Thibodeaux "Gap junctional communicationin the vibration-sensitive response of sea anemones" Hearing Research. 2000: 144, 109-123.
D. Salgado-Commissariat, K. A. Alkadhi "Serotonin inhibits epileptiform discharge by activatio nof 5-HT1a receptors in CA1 pyramidal neurons" Neuropharmacology 36. 1997: 11/12/2008
Battaglia FP, Kalenscher T, Cabral H, Winkel J, Bos J, Manuputy R, van Lieshout T, Pinkse F, Beukers H, Pennartz C "The Lantern: An ultra-light micro-drive for multi-tetrode recordings in mice and other small animals" Journal of Neuroscience Methods 178. 2009: 291-300.
RelatedItems