Nanoliter2020 Injector
Precise nanoliter-volume injections with intuitive SMARTouch™ controller
---
Overview
Specifications
Accessories
Citations
Related Products
Overview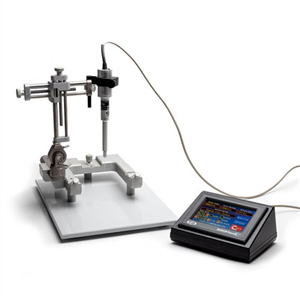 There are 5 images available to view - click to enlarge and scroll through the product gallery.
Perform nanoliter volume injections using glass micropipettes
Positive displacement pump uses oil pushed by a motor driven plunger (also referred as piston) where the oil layer pushes and dispenses an aqueous sample volume
Fine control of plunger displacement, along with proper gasket/glass/micropipette/oil sealing, ensures precision and accuracy
NANOLITER2020 System includes the 300704 Injector, the MICRO2T SMARTouch™ Controller and many accessories (See Details)
MICRO2T SMARTouch™ controller is required to operate the 300704 Injector (The same MICRO2T controller can be used with UMP3 pumps.)
300746 Spare Parts Kit required for use with the 300704 Injector
Glass micropipettes are not included with the 300704. Use WPI glass micropipettes or use glass capillaries (504949) and a puller to make micropipettes.
Use a tweezer (501981) to scoop gaskets out of the NANOLITER2020 Injector Head
300704 Injector Head comes with a gaskets to use with 1.1-1.15 mm glass installed
Benefits of NANOLITER2020 Injector (300704)
Injections performed with mineral oil back-filled glass micropipettes, and the sample is front filled. This approach minimizes loss of any costly and scarce sample when a minute sample volume can be adequate. (See FAQ for details.)
Control up to two pumps simultaneously
Mounts easily on a stereotaxic frame or a micromanipulator using the universal adapter 500778 (included)
Precise control over injection volumes (in the nanoliter to microliter range) and injection rates
Simple to use touchscreen interface and graphical representation of volume status on MICRO2T controller
LED run indicator offers a visual indication of connectivity
Perform the injection with a foot switch (optional)
Injector accepts a range of glass micropipettes (OD 1.1-1.5)
NANOLITER2020 costs 15% less than the previous model (NL2010MC2T)!
Applications
Nanoliter to microliter injection into frogs (Xenopus oocytes), rats, mice, mosquitoes, shrimps, insects (e.g., Brown Planthopper), flies (e.g., Drosophila) and fish (Zebrafish) embryo using glass micropipettes
Please refer to the "References" tab for details.
NANOLITER2020 Improvements
Connects directly to our MICRO2T SMARTouch™ controller, which can also be used with WPI's UMP3 pump
The injector head has a LED indicator which lights up bright red in RUN mode and dim red when connected to the controller. The LED indicator shows proper communication between the pump and controller.
14 mm OD glass micropipette is recommended for use with front green gasket. Use different OD fire-polished glass micropipettes by switching the front gasket (Green gasket for 1.1-1.15 mm OD glass, Black for 1.3-1.35 mm, Red for 1.5 mm).
Improved precision by in-depth plunger displacement validation
System is easier to use or operate
Injector has a chic silver design
Components
NANOLITER2020 System includes all the components listed below.
NOTE: The 300704 Injector may also be purchase separately. 300704 does not include the Controller or any of the required accessories listed in the table below.
Order code
Description
Quantity
300704

NANOLITER2020 Injector Head with Universal Adapter 500778

[One Set of Gasket (Front Green Gasket) to use with 1.1-1.15 mm Glass is installed]
1
Items listed below are already included with NANOLITER2020 System or can be purchased separately:
MICRO2T
SMARTouch Controller
1
501981
Tweezers to scoop out gaskets
1
504949
Glass Capillary (ID = 0.530 mm, OD 1.14 mm)
1 (pack of 300)
1TIP10XV119
Glass Micropipettes (ID = 0.530 mm, OD 1.14 mm, Tip ID= 10 μm)
2
300746 Spare Parts Kit includes:
14456
Allen Wrench 0.035 Hex Tool
1
MF34G
MicroFil 34 ga
1
300703
O-Ring Kit for NANOLITER2020
5
3563
1 cc Syringe
1
300514
Replacement Piston for NANOLITER2020
2
Two sample glass micropipettes are included. Use WPI-made glass micropipettes or use a glass capillary (504949) (included with NANOLITER2020) and a puller to make your own micropipettes.
FAQ
What is the advantage of using oil back-filled glass micropipettes?
The term "back filling" refers to the process of filling the pipette from the large, non-pulled end. "Front filling" is the term which is used to describe filling a micropipette through the small, pulled front end of the pipette. The glass micropipettes are first backfilled completely with mineral oil and secured to the NANOLITER Injector Head. Then, some mineral oil is dispensed through the tip. This creates the space and generates the pressure to front-fill samples through the tip. Front filling sample prevents the spillage or loss of costly or scarce sample involved with back-filling samples. When the sample volume is low, first back-filling glass micropipettes with oil and then front-filling the sample may be the only option.
Can I use WPI's old standard controller to run the 300704 Injector head?
WPI NANOLITER2020 Injector Head (300704) needs the MICRO2T controller (recommended). WPI's MICRO4 controller may be used to control the pump. The 300704 Injector Head cannot be used with WPI's old standard controller.
Can I use same MICRO2T controller that I use with UMP3 pump? Do I need an additional adapter to use the 300704 pump with my existing MICRO2T controller?
Yes, the same MICRO2T controller can be used to control the UMP3 pump and the Nanoliter2010. No additional adapter is needed. 300704 connects directly to MICRO2T controller.
Can I run the pump using a footswitch?
Yes, you can use the footswitch 13142. This is not included in the NANOLITER2020 system and is sold separately.
What do I do when glass micropipettes come off after attaching or I am unable to front-fill a sample?
Odorless and colorless mineral oil is used for backfilling glass micropipettes. While the glass micropipette is installed and with gradual spillage over multiple uses, the gaskets become too slippery to hold glass micropipette in place. Use Kimwipes to soak up oil spillage inside the injector head, outside the glass micropipettes and to clean the gaskets. If needed, install a new set of gaskets to resolve the issue.
Using WPI's New NANOLITER2020 Injector
Setting Up Your Nanoliter 2020
Specifications
Type
Description
NANOLITER 2020 Plunger Outer Diameter
480 µm
Plunger Movement for 100 nL Volume Dispense
550 µm ± 55 µm
Piston Movement per dispensed volume (nL)
55 µm/nL
Minimum Volume (Injection)
5 nL
Recommended Glass

TIP10XV119 (Micropipette)
504949 (Glass capillary)
1.14 mm OD Fire Polished Glass

Glass Use Capabilities

1.10-1.15 mm OD Glass with Green Front gasket
1.30-1.35 mm OD Fire-polished Glass with Black Front Gasket
1.5 mm OD Fire-polished Glass with Red Front Gasket

Minimum Recommended Volume Injection

25 nL with 1.14 OD glass (TIP10XV119 and Green Front Gasket)
50 nL with 1.5 mm OD glass (fire polished 1.5 mm glass and red gasket)

Maximum Possible Volume
4500 nL
Maximum Rate
644 nL/sec
Accessories
300733
O-ring Kit for Nanoliter2020

300746
Spare Parts Kit For Nanoliter2020
Citations
WPI's previous versions of NANOLITER2020 (NANOLITER2010, NL2010MC2T, and NANOLITER2000) that worked on same oil-plunger based, positive-displacement technique were used for research studies involving injection into rats, mice, mosquitoes, shrimps, frogs (Xenopus oocytes), insects (e.g., Brown Planthopper), flies (e.g., Drosophila), and fish (Zebrafish) embryo.
Recent Publications
Gaete, P., Lillo, M., López, W., Liu, Y., Harris, A., & Contreras, J. (2020). A novel voltage clamp/dye uptake assay reveals saturable transport of molecules through CALHM1 and connexin channels. BioRxiv, 2020.02.15.950923. https://doi.org/10.1101/2020.02.15.950923
Atif, M., Lynch, J. W., & Keramidas, A. (2020). The effects of insecticides on two splice variants of the glutamate-gated chloride channel receptor of the major malaria vector, Anopheles gambiae . British Journal of Pharmacology, 177(1), 175–187. https://doi.org/10.1111/bph.14855
Hao, D.-L., Yang, S.-Y., Liu, S.-X., Zhou, J.-Y., Huang, Y.-N., Véry, A.-A., … Su, Y.-H. (2020). Functional Characterization of the Arabidopsis Ammonium Transporter AtAMT1;3 With the Emphasis on Structural Determinants of Substrate Binding and Permeation Properties. Frontiers in Plant Science, 11, 571. https://doi.org/10.3389/fpls.2020.00571
Li, Y., Liu, Z., Guo, Q., & Luo, M. (2019). Long-term Fiber Photometry for Neuroscience Studies. Neuroscience Bulletin, 35(3), 425–433. https://doi.org/10.1007/s12264-019-00379-4
Li, R., Weng, J., Wang, X., Meng, Q., Wang, Y., & Sun, J. (2019). Bursicon homodimers induce innate immune by activating the expression of anti-microbial peptide genes in the shrimp Neocaridina heteropoda. Fish and Shellfish Immunology, 84, 906–911. https://doi.org/10.1016/j.fsi.2018.10.080
Li, R., Huang, Y., Zhang, Q., Zhou, H., Jin, P., & Ma, F. (2019). The miR-317 functions as a negative regulator of Toll immune response and influences Drosophila survival. Developmental and Comparative Immunology, 95, 19–27. https://doi.org/10.1016/j.dci.2019.01.012
Li, X., Liu, F., Wu, C., Zhao, J., Cai, W., & Hua, H. (2019). Decapentaplegic function in wing vein development and wing morph transformation in brown planthopper, Nilaparvata lugens. Developmental Biology, 449(2), 143–150. https://doi.org/10.1016/j.ydbio.2019.02.016
Scala, R., Maqoud, F., Angelelli, M., Latorre, R., Perrone, M., Scilimati, A., & Tricarico, D. (2019). Zoledronic Acid Modulation of TRPV1 Channel Currents in Osteoblast Cell Line and Native Rat and Mouse Bone Marrow-Derived Osteoblasts: Cell Proliferation and Mineralization Effect. Cancers, 11(2), 206. https://doi.org/10.3390/cancers11020206
RelatedItems

504949
Glass Capillaries for Nanoliter 2010, 300/vial - 3.5" long (ID 0.530 mm ± 25 µm, OD 1.1...

500292
Foot Switch for the MICRO2T, MICRO-ePORE and EVOM3 (13142)